Happiful and RED - Support for you all through the year
---
Everyone here at Happiful was thrilled to start our partnership with RED January in 2021.

Our friendship is a natural one as we both believe that bringing people together in purpose, even when we can't be together in person, is fundamental for our collective happiness, wellbeing and sense of community.

Happiful is a community dedicated to mental health, wellbeing and helping people find the support they need, so it seemed fitting for us to create a bespoke programme to motivate and cheer the RED community on, and so, the Midweek Motivation webinars began. We spoke with life coaches, a cognitive hypnotherapist and a nutritional therapist, and answered hundreds of questions posed by the RED community.

While the webinar programme has finished (for now - watch this space!), we want you to be able to revisit these resources whenever you need them. Below you'll find each of the four webinars and podcasts created for RED, so you can come back to them time and again.

We'd love to stay in touch with the RED community all year round, so please do download the free Happiful App and check out our special subscription offer at the bottom of this page.

Like RED Together, we're here for you the whole year through. You've got this!
---
Neil Bailey - Getting Going
Life Coach Neil Bailey discusses the importance of finding your 'why' and harnessing your motivation to make the changes you really want to see in your life.
---
Claudine Thornhill - Prioritising Wellness
Nutritional Therapist Claudine Thornhill shares the small incremental ways we can increase self care and nuture into our everyday, as well as key information around eating for wellbeing and stamina.
---
Sophie Parker - You Can Do This!
Hypnotherapist Sophie Parker shares her expertise on mindset,motivation and self confidence.
---
Alex Bowman - Keeping Great Habits Going
Life Coach Alex Bowman joined Kat Nicholls to talk about celebrating our achievements, understanding what stands in our way, and progress over perfection.
---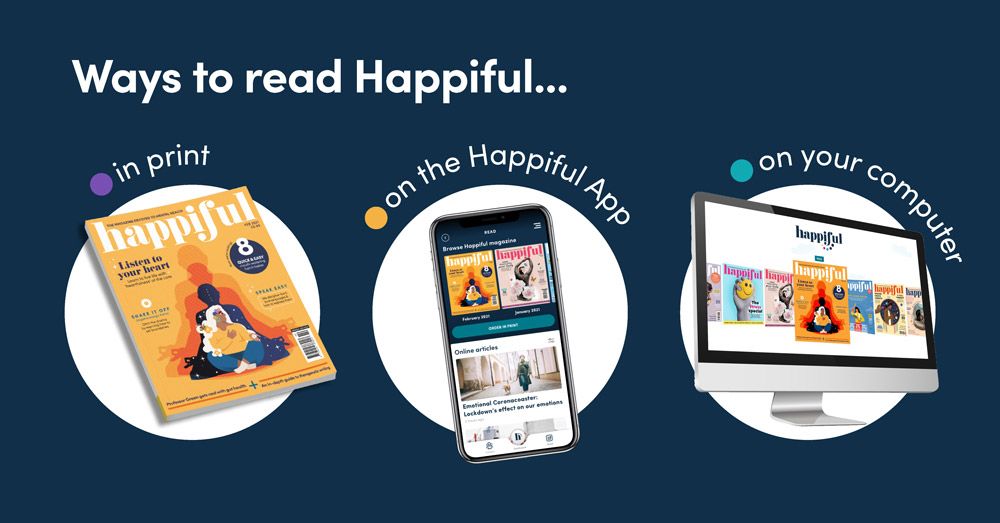 The Happiful App
The Happiful app is a great way to enjoy a free copy of Happiful Magazine each month too, and to connect with online wellbeing services online or near you, should you need it.
Our app is free on the App Store and Play store. Download it today to start your journey to reading safe, uplifting and inspiring news.


---
Exclusive Happiful Magazine offer
We are giving REDers an exclusive offer to get their printed copy of Happiful Magazine.
Happiful Magazine provides you with uplifting news and stories, delivered direct to your door. Each month we bring you real-life stories, expert advice and unique life hacks.
Get a 6 month subscritpion for £25 by entering the code: REDJAN2021
Offer valid until 11 March 2021
---
Prefer to read digitally?
Happiful is always available to read for free online. Subscribe to get it in your inbox, or enjoy every issue in the Happiful app.