CHILDREN
Grace Victory's top tips on how to take the stress out of travelling with toddlers
---
We all could do with a good break, but holidaying with little ones can be a challenge in itself. So, if the thought of some time away with a toddler is leaving you stressed, our columnist Grace Victory is here to share some first-hand tips and relatable advice to help you enjoy making some magical memories together
Ah, the sheer joy (and chaos) of going on holiday with your toddler. As a family, we just got back from our first sunny holiday to Turkey and, after not travelling for two years, it was bloody wonderful to put our toes in the sea, eat Lays with a Fanta on the balcony, and chase our little boy around a pool all day, because he's a lightning-speed crawler!
Going on holiday with children is a completely different experience, and one that you have to embrace and surrender to. You won't necessarily be able to sit on a lounger reading for hours, but making memories and showing them little corners of the world makes everything worthwhile.
Our trip was… intense! When people say "going on holiday is just parenting while being hot", they are absolutely right. My partner and I had to tag-team mealtimes, de-escalate mini meltdowns in front of other holiday-goers, and, yes, there were moments we felt embarrassed and as if everyone must think we're bad parents. Truth be told though, Cyprus found his voice on our holiday, and wanted to use it to shout at every opportunity – but that's just kids, and while it can be hard when you feel like you can't control a situation, it is absolutely normal for children to test your boundaries, even when you're in paradise.
So, what I'm trying to say is going abroad with your little ones in tow is hard, but there are ways to manage, things I recommend for the plane, and little tips and tricks we did to minimise stress.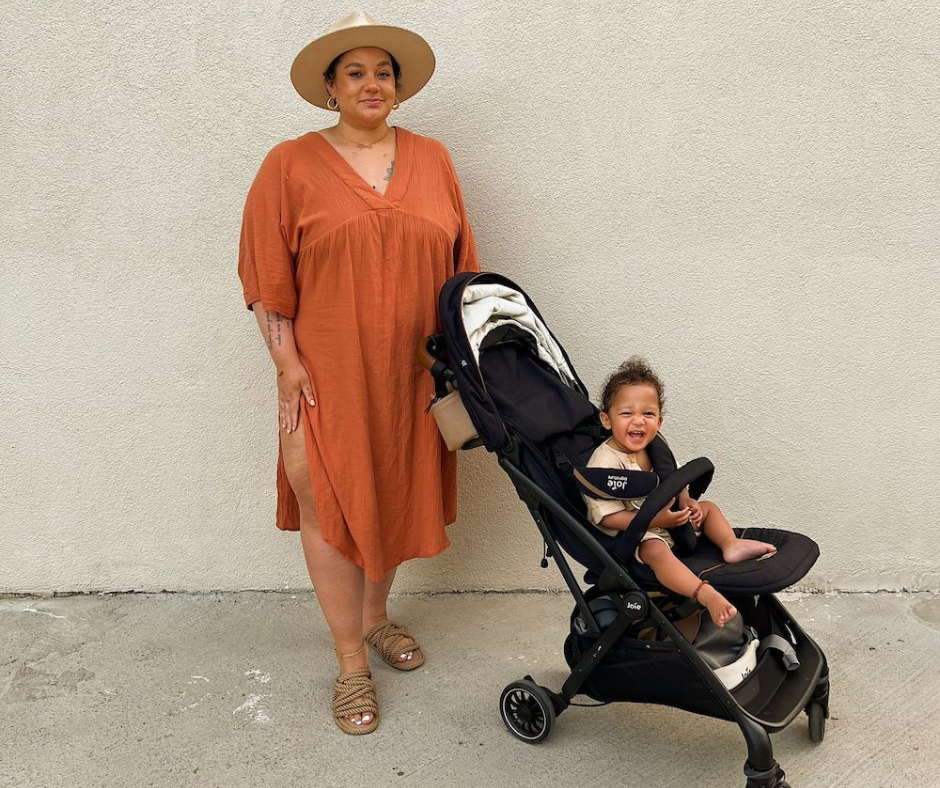 On the plane
Take lots of games and things to keep your kids entertained. Reusable sticker books, suction toys to stick on the window, their most loved book, and a tablet to watch their favourite shows (remember to download episodes at home so they can watch without WiFi).
I also recommend snacks upon snacks upon snacks. When you think you've packed enough snacks, pack more. I opted for crisps, cut up pieces of fruit, and then some trusty Ella's Kitchen pouches. And we fed our little boy a proper meal before the flight to make sure he was full enough for the four hours we were in the air.
Use packing cubes for your hand luggage to separate changing stuff, feeding stuff, important documents etc., so you have easy access to things! Don't forget to pack spare outfits for both your kids and you in case any accidents occur. There is nothing worse than being covered in sick, and you haven't packed a fresh pair of leggings.
On holiday
It goes without saying that children shouldn't be in the sun for long periods of time, so taking a UV pop-up tent with you is a great idea! You can use it next to the pool, on the beach, or on the grass. It's a great way for them to be in the shade and cool, and it's a place they can also play and snack too!
A portable fan that clicks onto your pram is also a good idea to keep your little one cool. You can get these for a reasonable price on Amazon.
You can often buy pool toys at the hotel. We initially took a bunch of silicone toys with us as a more sustainable option, but actually while we were there, Cyprus just wanted to play with the same toys as the other children, which is understandable. You can then leave them at reception or with the pool staff for other guests to use after you've left. This includes inflatables, and those water guns that should not be allowed, because I cannot tell you how many kids soaked me!
Take everything you could possibly need for every possible illness or problem. Things for teething, bites, sore throats, bad tummies, nappy rashes, and more! There is nothing worse than a poorly bubba, and failing to prepare for it! Boots online have an entire section for medical kids travel – utilise it, and thank me later.
General tips
Remember holidays with kids will be different to adult-only holidays. Take things day by day (or hour by hour if you need), and have little expectations. Embrace the chaos, and try to enjoy making all of those wonderful memories.
Remember, the holiday is for the kids too, so let them eat ice cream, stay up later than usual, and have crisps for dinner. Let the fun commence.
Love, Grace x
---
Subscribe to Happiful to make sure you don't miss out on Grace's fantastic regular column!
Image | Courtesy of Grace Victory
---