LIFE
Giovanna Fletcher: Mum's the word
---
Giovanna Fletcher is one half of one of the most adorable couples in show business, and has turned motherhood into big business. Through her acclaimed podcast Happy Mum, Happy Baby, the soon-to-be mum-of-three, vlogger, author and YouTube star, delves into every nook and cranny of motherhood – good and bad. Her frankness and honesty has one aim: to help other mums trust that they're not alone. Here Giovanna tells Happiful that women just need to support each other, cut out the comparing – and find time to talk…
"Happy mum, happy baby. It was Emma Willis who said it." Author and blogger Giovanna Fletcher is recalling the best motherhood advice she has ever received – a nugget of maternal nuance from her friend, Big Brother presenter and mum-of-three, Emma when, six weeks after her first son Buzz was born, Giovanna, 33, found herself at emotional breaking point.
"I was six weeks into feeding Buzz and miserable," she explains. "I felt this pressure that I was meant to know what his cry meant because everyone said 'you'll know'. We'd go through everything and nothing would work.
"For me, breastfeeding didn't come easily. I was always in a bit of pain and really wanted it to happen. I can remember crying on the phone to Emma and her saying: 'You've got to be happy so the baby's happy, and if feeding is making you so unhappy, maybe it's time to stop.'
"In that split second, Emma removed that pressure by telling me I had a choice. As it goes, I carried on breastfeeding and everything fell into place soon after, but Emma reminding me that my mental health as a mum is important was huge. After that, I felt different, as though someone was taking care of me, as a mum."
In March, the National Childbirth Trust estimated that half of new mums experience mental health or emotional problems during pregnancy or within a year of giving birth, including postnatal depression, post-traumatic stress, and anxiety. Only half of sufferers are thought to seek help.
Supporting other mums through the emotional highs and lows of new parenting is the motivation behind Giovanna's chart-topping Happy Mum, Happy Baby podcast, which she launched last September following her best-selling mum manual of the same title (such was the profound impact of Emma's words of wisdom).
"I wrote the book to stop mums feeling so alone," explains Giovanna, who discusses with honesty – and, frequently, her trademark humour – issues such as maternal FOMO, breastfeeding woes, and working mum guilt. The podcast, featuring frank chats with a "dream list" of high-profile mums like Davina McCall, Fearne Cotton and Rochelle Humes, has taken the conversation further by covering topics like stillbirth, IVF and self-confidence problems.
When I arrive to meet Giovanna on her Happiful cover shoot in east London, on a snowy morning in March, she is three months pregnant with baby number three, glowing and gloriously chatty. Midway through an outfit change, we learn how she is feeling noticeably more tired during this second trimester. The night before we meet, she and her former McFly musician-turned-author husband Tom, 32, snuggled up on the sofa to watch Wonder Woman, and Giovanna spent the final 20 minutes of the movie standing up to stave off fatigue.
She talks of smartphone-induced car sickness ("I had it when carrying Buzz too") and observes that this time around her tummy has grown bigger, more quickly. Note: This isn't a grumble.
Giovanna has long promoted positive body image and regularly uses her social channels to encourage women to stop comparing sizes and to love the skin they're in.
Last summer, on a family holiday to Italy, she uploaded a picture of herself wearing a black swimsuit, playing in the sea with Buzz, now four, and his younger brother Buddy, two, to Instagram. The post excited endless praise – more than 80,000 likes to date – from people who hailed her an "inspiration". For Giovanna, the motivation was simple.
"A lot of my friends' mums weren't in a lot of photos because they were self-conscious," she says. "After having two kids, it's so easy to fall into that but, actually, I want my kids to grow up with me being a part of that fun, rather than sitting under an umbrella in my kaftan."
Giovanna has, many times, mentally sat in the shade. Growing up, she hated her body because she "always felt fat". Then in 2012, before being diagnosed with Polycystic Ovary Syndrome, she kept gaining weight and the hormonal imbalance sparked excessive hair growth and spots on her face and back. "I just felt awful," she says.
Most troubling, though, is hearing Giovanna describe the episode of self-loathing following a miscarriage in 2014. "I was so angry," she explains, her eyes dropping to her lap. "I felt so let down by my body."
On reflection, Giovanna believes that motherhood has transformed this perspective.
"My attitude towards my body has changed hugely. It's given me two amazing boys, and grown me a third! It's incredible," she says. "Yes, it doesn't look like it did when I was 18, but even if I didn't have children it was never going to look the same."
In February 2016, 11 days after Buddy was born, Giovanna stayed overnight in hospital and encountered body shaming from a member of A&E staff who said: "Oh look, mummy's still got her tummy."
"That stopped me in my tracks and if I hadn't have laughed I would have cried," says Giovanna, who later wrote about the episode on Instagram, posting with pride a picture of her post-baby bump, which she hailed "a miracle worker".
"That made me look at my body and at that moment I was like 'my body's amazing'," she says. "That was such a powerful message to me and that's why I shared it. Since then I don't feel I've gone back."
Giovanna is admirably positive, and the way she expresses herself is mature and thoughtful. I ask for her views on the controversial subject of gender selection – treatment that model and mum-of-three-boys Danielle Lloyd, 34, has pledged to have in America, where it is legal, to ensure that her next baby is a girl – and she answers without judgement.
"I really don't mind if that's what people want to do, each to their own, but I wouldn't. I'm not pining after a girl. Buzz and Buddy are so different, so what we're doing is bringing another personality into the mix."
What, then, are her thoughts on gender neutrality? After Giovanna put bright pink laces in Buzz's trainers, one person commented that it was "embarrassing for a boy" to wear pink, which prompted hundreds to leap to her defence. With more and more parents letting their children subvert gender norms – last summer Radio 2 host Chris Evans' six-year-old son Eli wore a green dress to a movie premiere, and Adele's son Angelo dressed up as Anna from Frozen a few months earlier – would Giovanna approve of Buzz wearing a dress?
"If he wanted to wear one, yeah," she says. "We always played dress-up growing up. Mario [Giovanna's younger brother Mario Falcone, 30 – best known for starring in The Only Way Is Essex] used to wear dresses. For my nan's 60th, we dressed him up as our auntie Kay in a tutu. It's all part of growing up. It's not worth getting stressed out over and, also, what are you going to stop? People are born a certain way and what are you trying to achieve by blocking that?"
---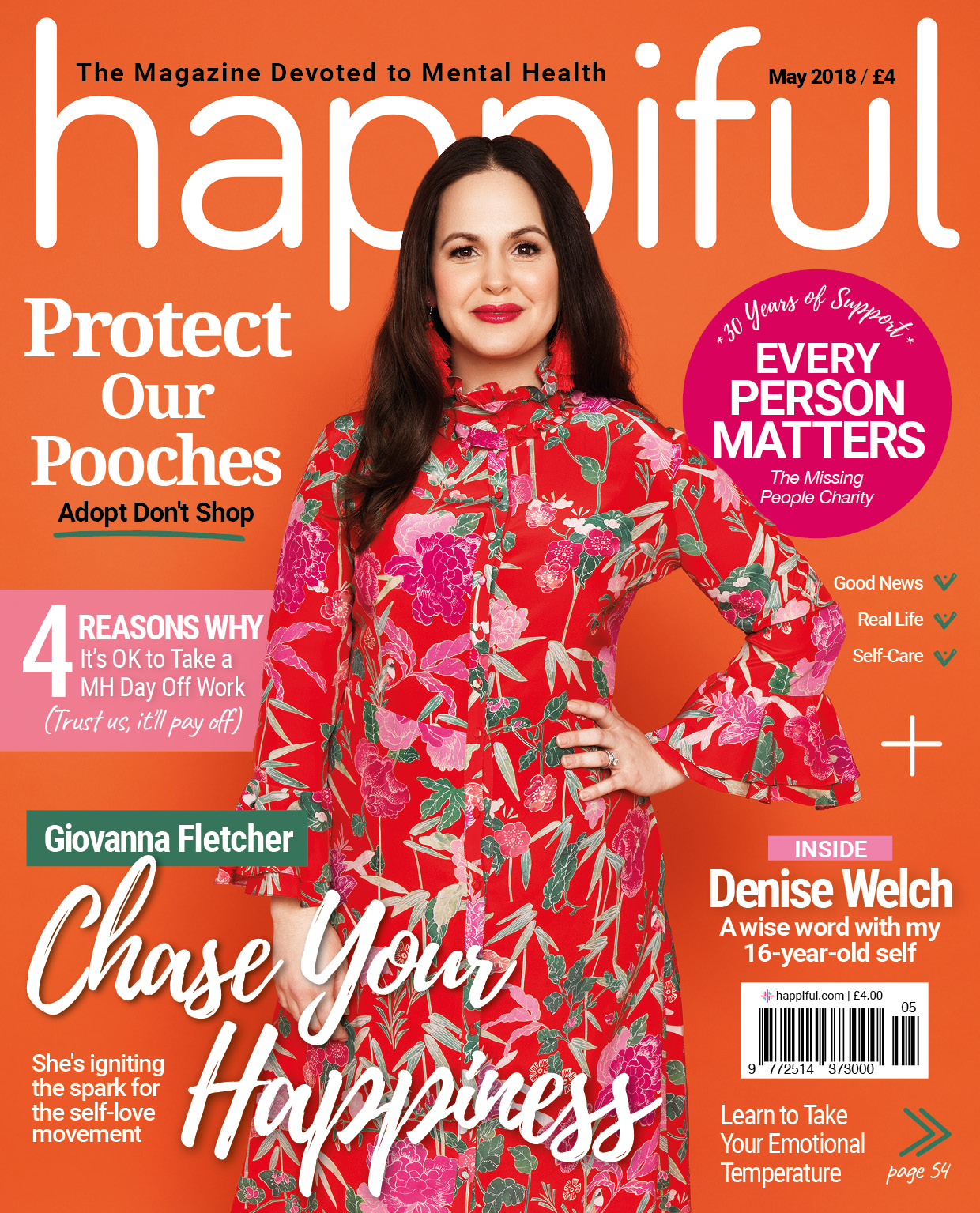 To read more, pick up the May issue of Happiful in your local Waitrose, Tesco, Sainsbury's, Morrisons or Asda store from Thursday 19 April, or subscribe to our free digital magazine to receive it straight to your inbox on Thursday.
Photography | Joseph Sinclair
Hair & Make-up | Clare Turner, using Mac, Nars and Philip Kingsley
Styling | Krishan Parmar