PARENTHOOD
Giovanna Fletcher on balancing parenthood and pursuing her passions
---
From dispelling myths about motherhood and revealing the postnatal pressure on parents, to sharing the sanctity of self-care, bestselling author, podcaster, and actress Giovanna Fletcher has been a comforting voice of support for years. And now she's embarking on a new challenge, following her passions and finding herself centre stage…
Since Giovanna Fletcher launched her hit podcast, 'Happy Mum, Happy Baby', a wealth of celebrity guests, from the Princess of Wales to Fearne Cotton, have joined her for openhearted and fearlessly frank conversations about parenthood.
Based on her bestselling book of the same name, the podcast, which boasts more than 20 million downloads, aims, says Giovanna, to help new mums "feel better about themselves" – something made possible by her own natural warmth and openness about her experience of raising her sons Buzz, 8, Buddy, 6, and Max, 4.
And Giovanna has no plans to take a breather from podcasting, because she understands that for some women, her support could mean the difference between life and death.
"The leading cause of death in new mums within the first postnatal year is suicide," says Giovanna. "Well, let's have those chats, let's get people talking so they know they're not on their own, let's be that hand in the dark for people when they feel like they aren't valued and not enough, because they absolutely are enough.
"The more that we can dispel the myth that there's a right way to do motherhood and that you can fail in it, the better."
Speaking from her new home in Hertfordshire, against a backdrop of framed pictures including one, which reads 'Yo Mama You've Got This', Giovanna makes no secret of the fact that, at times, juggling a busy, evolving career and raising her boys with her McFly musician partner, Tom Fletcher, can feel overwhelming, but she says organisation is her key to "self-care" because it avoids her "flapping" around in the morning. Vitally, she accepts that occasional mistakes are par for the course.
"Angela Scanlon once told me that we've all got balls flying in the air. Some are glass, and some are plastic. We have to keep the glass balls in the air because they're precious – that's family – but we have to allow the plastic balls to drop every now and then," says Giovanna.
"I'll let the class WhatsApp slide for a week and then have an 'Oh my gosh, what's going on? What have I forgotten? Sorry kids!' moment."
Numerous studies show that in heterosexual relationships, women are responsible for the lion's share of childcare and housework, and perform far more cognitive and emotional labour than men. Research from Arizona State University also reveals that almost 90% of mothers in committed partnerships say this responsibility leaves them feeling overwhelmed, exhausted, and unable to make space for self-care.
"Hand over some of that responsibility, and know it's OK if [your partner] does it in a different way to you," advises Giovanna. "If we can not be so precious about getting it all done, it alleviates that weight on us. A problem is only your problem if you don't share it. Being a mum and running the house, you have to vocalise what you need, otherwise you're just stomping around and resenting everything. You don't have to live like that."
With Max now in school, and all the kids running busy schedules – "They're out at 8am, they come back at 4pm or 5pm, depending if they've got an after-school club" – Giovanna has acquired more balance, and now works more concentrated daytime hours, rather than logging on after the kids' bedtime.
"I am really keen on boundaries now," she says, explaining how a lockdown-born Lego hobby ("I'm currently building a Disney castle") is now her preferred way to spend an evening.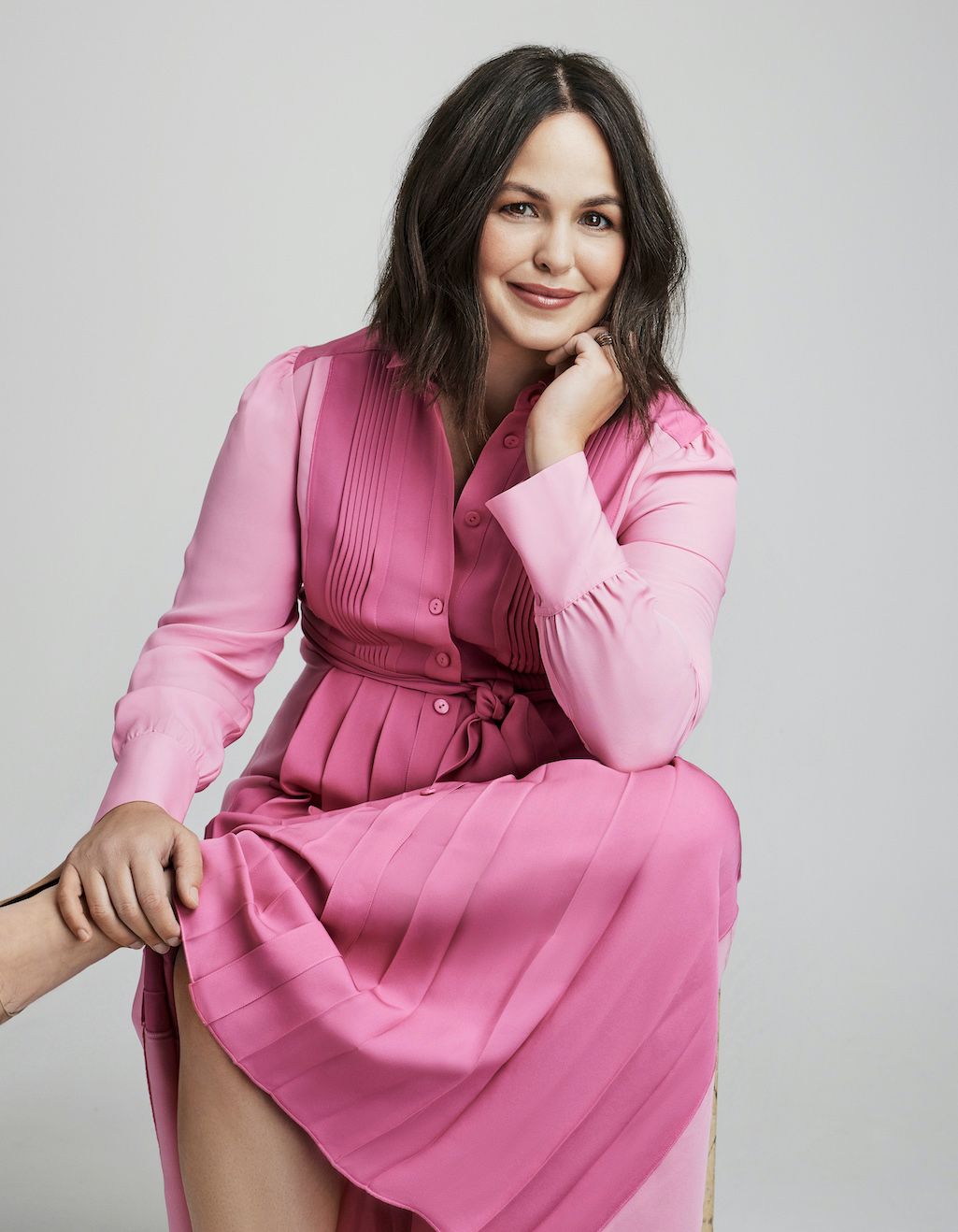 "Lockdown showed us that we have to make time for things that help our minds, and when I'm doing Lego, I can't really take in anything else. There's something about building something, seeing how it fits together and works, and you don't have to think because a manual tells you exactly what to do."
Reward in equal measure comes from utilising the acting skills she honed at London's Sylvia Young Theatre School, where she met Tom at the age of 13 (and where he proposed amidst a carpet of candles in 2011), then south London's Rose Bruford College of Theatre and Performance.
Giovanna, who grew up in Ingatestone, Essex, appeared alongside Marcus Brigstocke in 2001 TV drama The Savages, and was cast in the 2009 film The Boat That Rocked. Then, last January, after five years off stage, she was the lead in 2:22, a supernatural thriller play in the West End. From this month until mid April, Giovanna is in the world premiere stage adaptation of Wish You Were Dead, based on the novel by bestselling British crime writer Peter James.
"It's lovely to be using those skills in the way that I originally planned. I love the live aspect of theatre. Anything can happen, no two nights are the same," she says.
And appearing up close and personal before a live audience inspires a sense of vulnerability.
"I feel sick every night before I go on stage, but I think that's good. It's healthy. It would be more worrying if that wasn't there. I feel nervous before every podcast recording, before everything I do, because I just want everything to go well."
As well as taking stock of the advice she gives her boys whenever one feels anxious – "See nerves as excitement, try to channel it and rebrand it" – Giovanna uses various peace-enhancing rituals to calm her during times of emotional unease, including using "a little bit of Rescue Remedy", doing vocal warm ups, and listening to music by rock band The xx.
Just like 2:22, the adult nature of Wish You Were Dead means it is, explains Giovanna, "another thing the boys won't be able to come and see mummy do", and during her 10-week leg of the show's five-month UK tour she also won't be doing school drop-off and pick-up every day, because "that's the reality of theatre".
Still, she gets comfort from knowing her children understand she is "off doing the things that I love", which also applies to visiting far-flung destinations to embark on gruelling challenges as patron for breast cancer awareness charity CoppaFeel!
In November, Giovanna returned from a 100km trek across the Sahara Desert alongside 100 CoppaFeel! supporters and celebrities, including her pal Kelsey Parker, whose husband, The Wanted star Tom, died 10 months ago following an 18-month battle with brain cancer.
"When you're doing an activity and talking, barriers come down," says Giovanna. "Whether you're walking with people who have had a breast cancer diagnosis, who are mid-treatment, or have no connection to breast cancer whatsoever. I feel so privileged to get a week to walk and talk. It's a great form of therapy.
"Grief is still a taboo in this country, and one thing Kelsey really loved about the treks was being able to have those conversations with people within the cancer community, and not feel people are treading on eggshells."
This year, Giovanna is embarking on two more challenges, releasing another book, throwing her all into her new stage role, and working hard at her biggest job of all – being mum. Might there be room for one more at Fletcher HQ?
Giovanna smiles. "I feel so grateful to have our three children, and my heart is full. But I think the shop is shut!"
---
'Wish You Were Dead' is touring across the UK from 16 February until 29 July. For tickets and venues visit peterjames.com
---
Photography | Rachell Smith
---