BLOG
Find your sanctuary: how to escape the daily chaos and create your personal piece of paradise
---
Whether it's a physical place, or a mental space, we all need somewhere to retreat and recover from the noise of the world
Hello Happiful readers,
"If we could make our house a home, and then make it a sanctuary, I think we could truly find paradise on Earth." – Alexandra Stoddard.
When I read this quote, I couldn't help but think back to being a kid, and revelling in building blanket forts.
Mismatched quilts, various pillows 'borrowed' from any room that could spare them, and the dubious structural integrity meaning you might find the fabric roof resting on your head at any moment; it was thrilling, imperfect, and utterly personal. A cosy little cocoon to play, read, or daydream to your heart's content.
Nowadays, it's rare to take a walk through the woods without spotting a makeshift den. Remnants of a fun afternoon of adventure, which can set a little pang of longing in your heart to join the creativity.
As adults, we can take for granted the benefits that a safe space to call our own can bring.
Whether it's a physical place to find some tranquillity, or a mental one to clear our minds of pressures, stresses, and endless to-do lists, we all deserve somewhere to switch off and find respite.
So, with that in mind, in issue 64 we're homing-in on how we can create our own bubble, mentally and physically, to give us a breather from daily woes.
It's time to recapture that magic of our youth, and create a sanctuary to retreat from the chaos of the world. Why not try our quiz on p44 to discover how to craft your own sweet escape?
It could be a kingdom of contentment as you reconnect with nature, like in our article on p53, or the comfort of retreating behind your own parametres of peace by setting healthy boundaries on p17.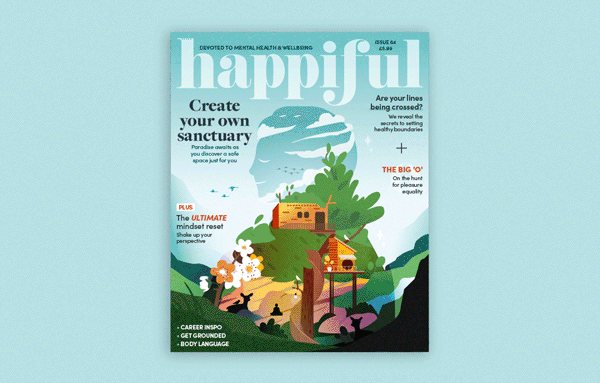 Plus, this print edition includes:
• Fascinating features including self-compassion secrets, the ultimate mindset reset, the throwaway sayings we need to ditch, the grow-your-own revolution, and the world's most soothing imagery.
• Creative life hacks from how to ask for emotional consent before you vent, to questions to reconnect with your career path, and tips to get grounded.
• Professional insight from a range of experts on topics including work addiction, natural energy boosts, and support for new mums.
• Spotlight on: relationships: closing the orgasm gap; how to set healthy boundaries; insight into the struggles faced by the LGBTQIA+ community; and print-exclusive guided journaling pages to nurture your personal connections.
Take a moment to consider your true needs. Knowing this little piece of paradise is there for you could be a great, untapped comfort in testing times.
You deserve to feel resilient, rejuvenated, and reborn. Your sanctuary awaits...
Rebecca Thair
Editor
---
Get your regular Happiful delivery and never miss an issue with our range of hassle-free subscription offers. Sign up to get:
• Happiful delivered straight to your door each month
• Free postage and packaging to the UK and NI
• Be one of the first to receive our latest issue, ahead of digital release
• The magazine and it's packaging are fully recyclable
• For every tree used to create the mag, we plant two in its place
• By purchasing a print subscription, you are funding our mission to provide a digital version for free, to ensure there are no finanacial barriers to mental health support and information for those in need – thank you!
Buy a copy of Happiful from our shop today.