BLOG
Feeling lost? Why soul-searching could be the solution to find your true calling
---
Are you feeling disconnected from yourself, or lacking direction? A little introspection, and some time and space to soul-search could lead you down the pathway to you best self
Hello Happiful readers,
The thrill of knowing where you're heading, even if you don't know exactly how you're going to get there, is hard to beat.
That certainty in your heart about what it beats for, what fuels your fire, and guides your spirit, can give you courage in the face of any challenge, and a quiet confidence that you know your true purpose.
But, at the moment, there seems to be a collective feeling bubbling below the surface; a sense of being lost, lacking direction, or that we're set on a course that isn't fulfilling us any more.
We might feel adrift in a sea of uncertainty, carried along by a current that we're struggling to break free from.
So, how can we find our way again? And is it possible to take back control of our own destiny?
The solution could be to give ourselves the time and space to do a little soul-searching, to quench our curiosity, and explore our true needs on the ever-changing path of life.
Issue 63 of Happiful is all about that journey to figuring out your innermost needs and desires – what is your guiding star?
From taking the plunge and chasing adventure with adult gap years on p48, to growing older with joy on p17, and a guide to finding your true calling on p32, it's time to discover what speaks to you.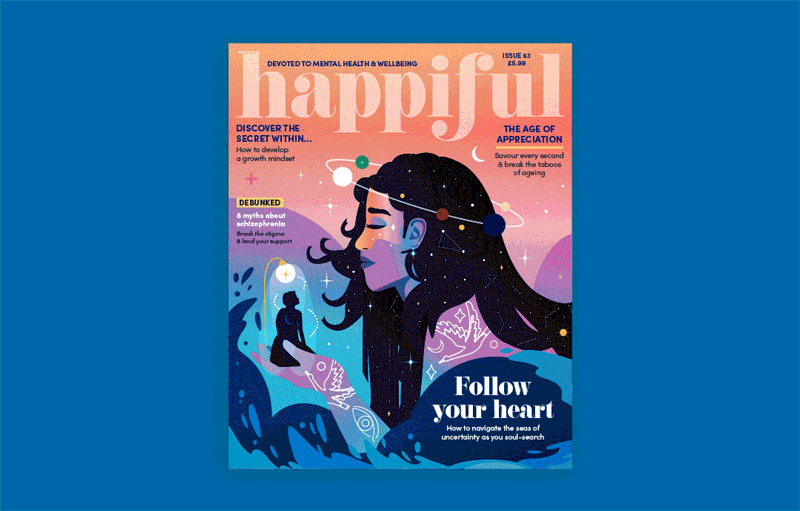 Plus, this print edition includes:
• In-depth journaling pages to nurture your personal growth, and help you flourish as your best self.
• Essential life hacks from addressing ADHD in the workplace, to what to do on the really bad days, and how to find a healthy balance with news consumption.
• Professional insight from a range of experts on topics including birth anxiety, weaponised incompetence, nature therapy, and nutritious, refreshing recipes.
Don't worry about the direction everyone else is setting sail on; follow your own intuition. Now is the moment to break free from your comfort zone, and discover the great unknown longing in your life.
As JRR Tolkien wrote: "Not all those who wander are lost."
Sometimes, when you stray from the path, and create your own, is exactly when you find yourself.
Rebecca Thair
Editor
---
Get your regular Happiful delivery and never miss an issue with our range of hassle-free subscription offers. Sign up to get:
• Happiful delivered straight to your door each month
• Free postage and packaging to the UK and NI
• The magazine and it's packaging are fully recyclable
• For every tree used to create the mag, we plant two in its place
• By purchasing a print subscription, you are funding our mission to provide a digital version for free, to ensure there are no finanacial barriers to mental health support and information for those in need – thank you!
Buy a copy of Happiful from our shop today.