HAPPINESS
Fearne Cotton on stepping out of her comfort zone to discover her own happy place
---
When it comes to finding our personal sanctuary, we all deserve a space that can invigorate and inspire, as well as offering peace and protection – whether that be a physical place or a mental state. Here, mental health advocate, author, and broadcaster Fearne Cotton reveals how she found her own happy place, and invites you to explore your own, too…
The first time I stepped into the cold sea was a blue skied April morning with my friend Ella. We had taken the kids to the south coast of the UK for a few days for fresh air and freedom. I had long heard about the gargantuan benefits of cold water therapy, and had dabbled with cold showers on days I could bear it, and not worry too much about my next door neighbours hearing my pathetic yelps, but I was yet to walk into the sea with the intention of feeling better.
Ella is gung ho. There are no excuses or chickening out with her. We put our swimsuits on under our tracksuits, and strode down to the water edge with purpose. My stride illustrated a confidence I certainly didn't feel at this point. Ella walked in, shoulders up to her ears, hands switching by her side. I had no choice. I tiptoed behind her, my mouth stretched out like a Wallace and Gromit character in complete despair. Every millimetre of my skin was alive. The surface almost pulsating, goose-bumps the size of peas. We kept walking. Once waist high in icy, light green water there are only two options, walk back out screeching or push out and swim. I dutifully followed Ella, and sunk my jittering shoulders beneath the undulating surface, and let my arms glide through the water.
For the first 30 seconds I couldn't catch my breath at all. I was gulping and gasping, and looking on towards the locals with lust. I so wished I could look as calm as them. By day three of our trip, I was almost there. My face was more relaxed knowing how good I would feel afterwards, my body less rigid and resistant, and I managed to stay in for a full six minutes.
I may not be Wim Hoff, but my love of getting into the sea, no matter what time of year, has only grown since. I even managed to submerge into the arms of Dorset's Jurassic salty waters this March when the sea is at its coldest. Not only do I feel the total, all-consuming exhilaration afterwards, I also feel immensely calm when I'm swimming. I love the feel of the water around my body, how big the sky looks on the horizon, and how the huge gulps of air wake up my body. In those moments, I am truly alive.
There are certain beaches on the UK's south coast that make me feel very happy. Sometimes I'll go in the sea, but sometimes I'll just sit and look at it. I'll listen to the pebbles being dragged out to sea and then rolled back to shore again, and watch the ever-changing shape of the water's surface. Being by the sea is undoubtedly my happy place, and I know it's the same for so many people out there, too. Maybe it's the mysterious nature of how it moves and flows. Perhaps the historic presence it's always had, far out living any species, giving us perspective? Or it could be that it's simply beautiful in every way – unruly, wild, spontaneous, unpredictable. It has all those qualities I long for, but often feel too scared to showcase. It has the power to motivate, inspire, and relax me all at the same time.
Where is your happy place? It could be by the sea like me, or in a tiny nook within the walls of your own home? Wherever it is, make sure you visit it physically or mentally whenever you can. If you haven't quite worked out where your happy place is, you might just like our yearly Happy Place festival.
We created our Happy Place festival to give our Happy Place community the chance to congregate in a real, well, happy place. In beautiful outdoor locations in London and Cheshire, our festival goers can have new experiences in our creative workshops, meditate in groups, take part in a yoga or fitness class, eat delicious food, check out small, beautiful UK businesses in our shopping area, and listen to rich story telling on our Talks Stage. I hope our festival gives you what the sea gives me: motivation, inspiration, and proper relaxation. Feed your soul at this year's Happy Place Festival.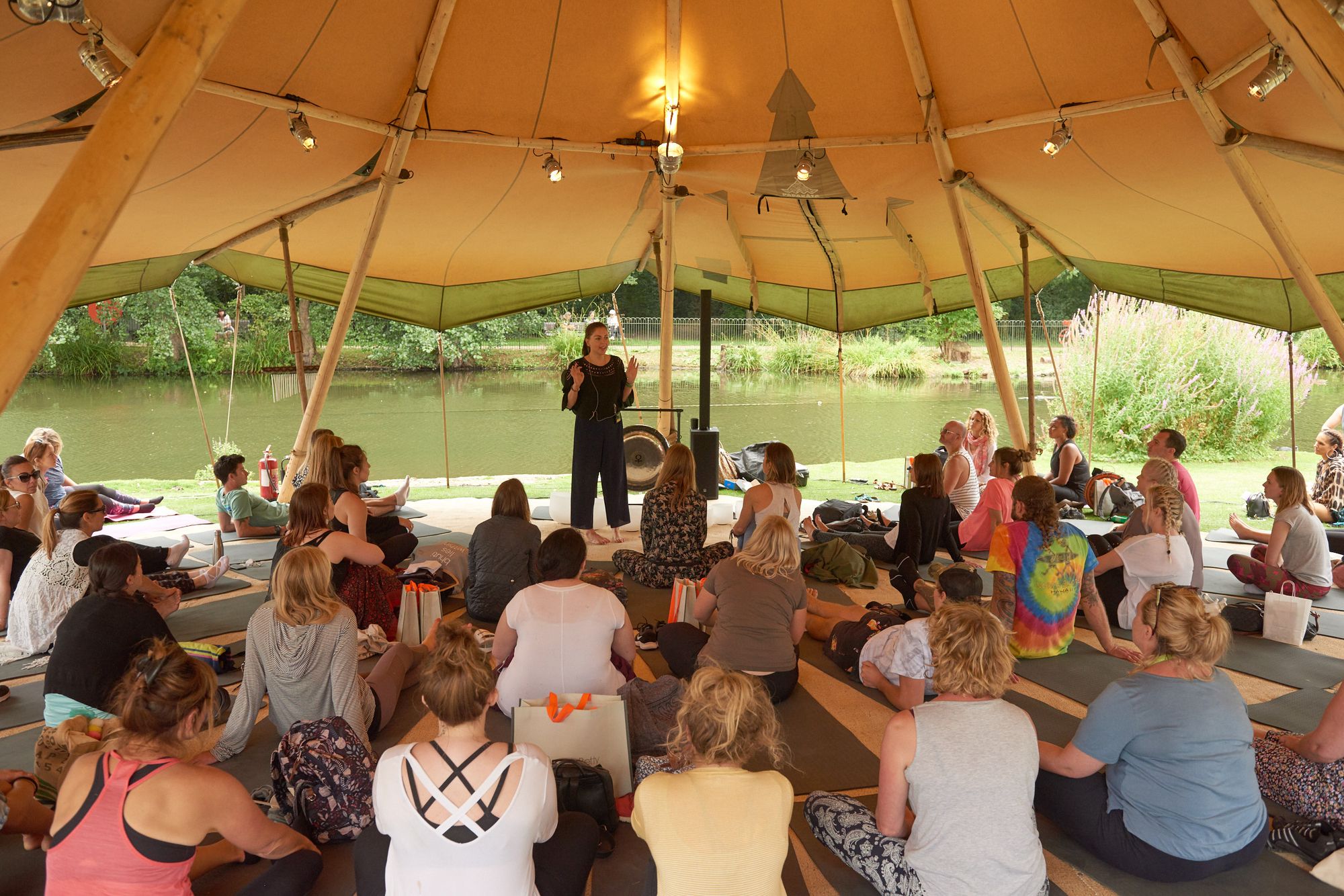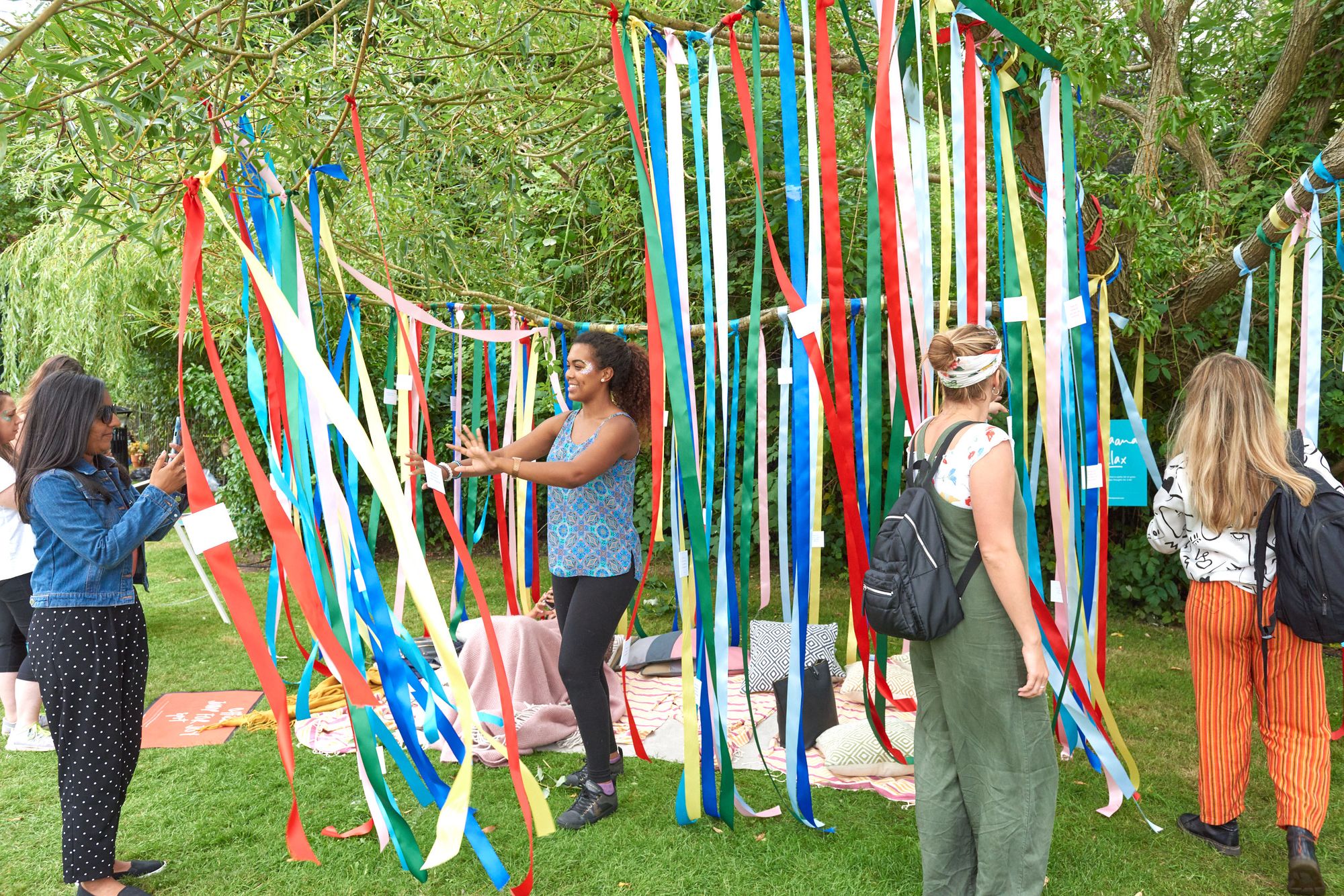 Photography | Happy Place Festival
---
🧡
The Happy Place Festival will take place 6–7 August in Chiswick House, London, and 3–4 September in Tatton Park, Cheshire. To view the full line-up and book tickets, visit happyplaceofficial.co.uk.
---
Portrait photography | Courtesy of PR