From her time on Loose Women, to her memorable appearance on Celebrity Big Brother, star of stage and screen Denise Welch has never shied away from talking candidly about her life, experiences and, most notably for us, her mental health. To mark her 60th birthday, Denise pens an open letter to her 16-year-old self, reflecting on a very colourful life
Over the years, Denise Welch has gone through extremely difficult periods, from the postnatal depression that consumed her following the birth of her first-born, and frontman of the indie band The 1975, Matty Healy, to alcoholism as she attempted to self-medicate to deal with what she calls her "unwelcome visitor" – depression.
But with the lows have also been some truly wonderful highs, and her life has been full of joy, and learning, and love, too.
As she discussed in an interview with Happiful last year, she is in a positive place now, having come through the darkness, and has grown so much from what she's been through. Her two children are her greatest joy in life, and she couldn't be more proud of them. In 2013, she married British artist Lincoln Townley, who encouraged Denise to face her demons and take steps in her recovery to become sober, together.
Over the years, she's been an incredible advocate for mental health, leading the charge in the mission to break down stigmas and encourage people to join the conversation.
As she approaches her milestone 60th birthday, Denise writes a letter to her 16-year-old self, reflecting on how far she has come, everything she's been through, and above all, words of wisdom to get through those moments where it feels like the world is against you.
Through the tough times, and the good, one thing is for sure – our Denise has certainly made her time memorable.
---
Dear Denise
I want to start by saying that your life will never be boring! You will maybe experience more lows than many people, but you will certainly enjoy more highs.
Never take the love of your family for granted. You are blessed with amazing parents and when you are older you'll realise just how lucky you are.
As for your sister, she will always be your best friend. There are times when you won't think so, as she is the only one to be brutally honest with you. But you'll learn she has your best interests at heart.
Follow your dreams to be an actress. Don't listen to the naysayers. You will love what you do and will earn a good living, but you won't be defined by your career.
Your love life will be colourful! You will learn from your first marriage exactly what you don't want (I'd love to tell you not to marry him, but you're very headstrong!).
A good man will be the father to your children, but recognise when the marriage is over and walk away. Love changes, and you will remain good friends.
I wish I could prevent the depression that will descend after childbirth. But you must realise that this is an illness like any other. Be as kind to yourself as possible. Take time off work – they'll survive without you.
Don't self-medicate. It will take you down a very long, dark road and it'll be very hard to find your way home.
Try not to worry about ageing. It's a pointless waste of time and energy. Feel thankful to be a survivor!
Don't fear the work you love drying up. You've always been a character actor and your roles will only get better.
Don't worry about not finding love again. There will be life left in the "old dog"! You will find the greatest love of all in your 50s. You probably think that's a bit gross at 16, but believe me, it's a love like no other. And he'll be a young'un! Together you will be strong and defeat your demons as one.
Your children will be your greatest joy and will work hard to save up for "Shady Pines" in Beverly Hills!
If you get the chance to do a daily talk show, try to self-edit a bit. Try not to tell the world absolutely everything about your life, as it will come back and bite you on the arse!
Above all, everyone has their cross to bear. Your's will be living with mental illness. But you will be determined to help others who are struggling, and this in turn will be a huge comfort to you.
Your "unwelcome visitor" will continue to make uninvited calls, but he will always leave and your life in between will be happy, fulfilling, rewarding and most of all, full of love.
You're a tough cookie, and I'm proud of who you are now and who you will become.
I love you,
Denise xx
---
Wishing you the very best of birthdays Denise, surrounded by your loved ones for a well-deserved celebration. Treasure your memories – the highs and the lows – they've made you who you are today. At 60, you are a true inspiration, full of strength and sass – never change.
Lots of love,
The Happiful Team x
---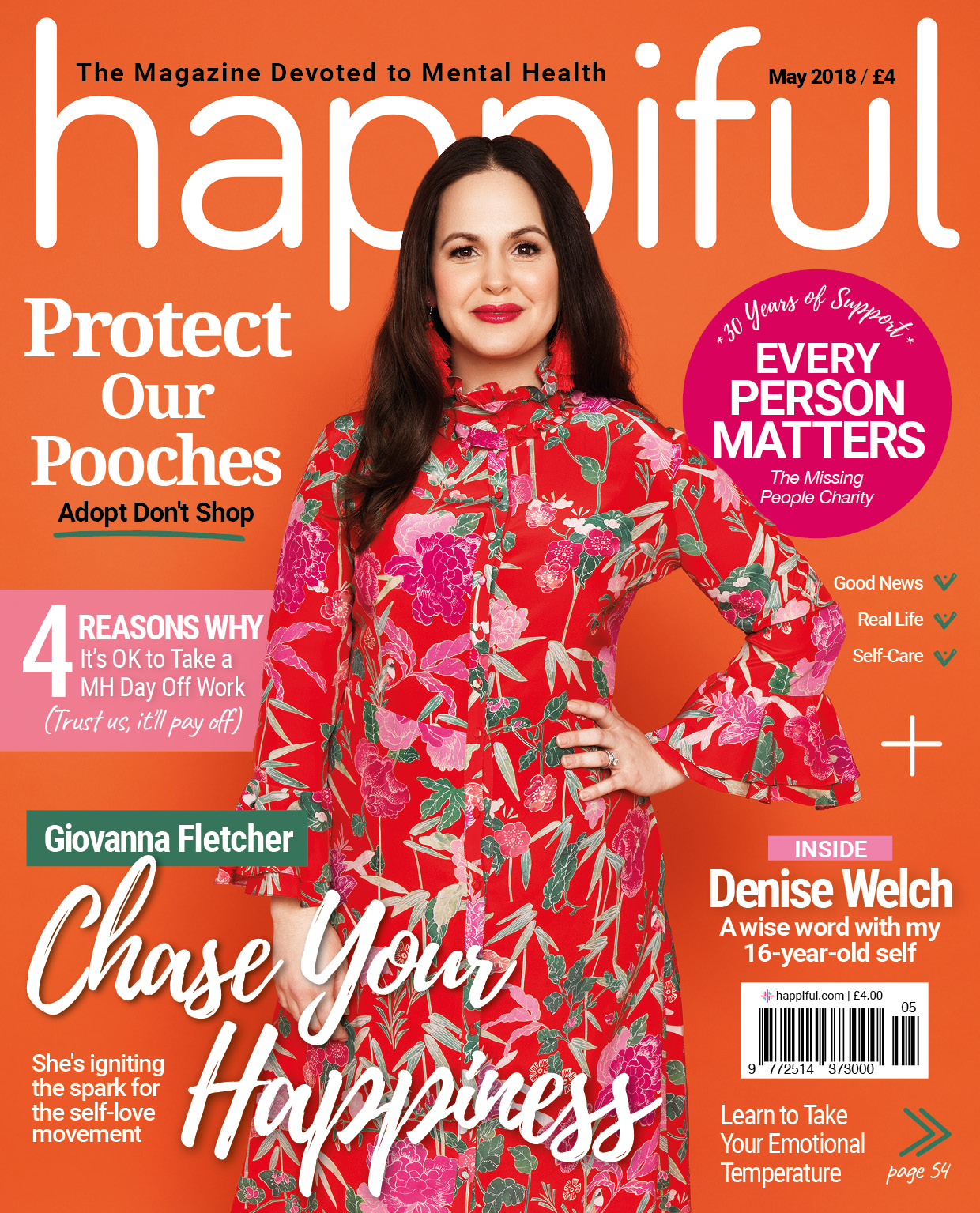 To read more, pick up the May issue of Happiful in your local Waitrose, Tesco, Sainsbury's, Morrisons or Asda store from Thursday 19 April, or subscribe to our free digital magazine to receive it straight to your inbox on Thursday.
Photography | Amanda Jackson
Hair & Make-up | Alice Theobald, using Rodial skncare, Csmetics a la Carte makeup, L'Anza haircre, Doll Baby lashes
Styling | Suzie Street