NEWS
Countryfile Ramble Returns for BBC Children In Need 2019
---
The Countryfile Ramble returns for its fifth year, with regular Countryfile presenters lacing up their walking boots, and leading rambles across the UK to help make a difference to young people's lives
Joining the presenters are a number of inspirational young people who have benefitted from BBC Children in Need.
What is the Countryfile Ramble?
Since the Ramble began, ramblers have raised over £6.2million for BBC Children in Need. This year, ramblers and Countryfile presenters came together once again, rambling in some of the nation's most beautiful locations, including Glenariff Forest Park in Northern Ireland, the North Cornwall coastline and the Ridgeway Walking Route in Wiltshire.
Aaliyah's story
Aaliyah joined Ellie Harrison and Steve Brown on 6 October in a mass ramble through the city of Worcester, taking in the views of the River Severn and the city.
"I was very nervous in the days before the Ramble because I knew it would be a big physical challenge, and because I was going to be in a crowd of people I didn't know, and being filmed. I was excited to be getting involved to raise awareness of the charities who support me and my family," said Aaliyah.
"It was a great day and everyone was so friendly. Crossing the finish line with Steve, Ellie, my family and supporters felt amazing both as a personal accomplishment and also knowing we were helping other children, young people and their families."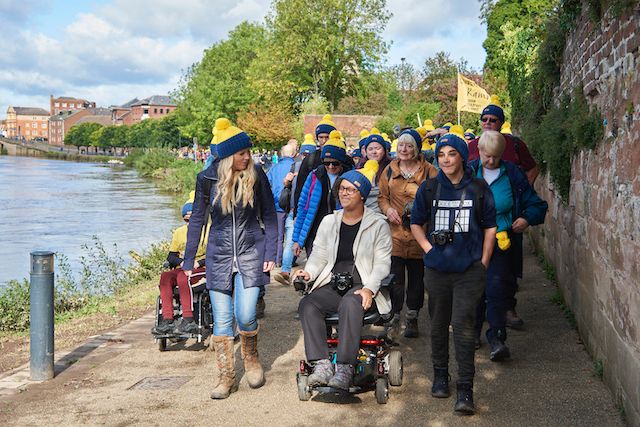 Diagnosed with Dilated Cardiomyopathy (CDM) at a young age, Aaliyah has dealt with a number of challenges. The condition, which affects the heart muscle, has meant that Aaliyah's heart beats at one third of the rate of everyone else's. As a result, Aaliyah often feels fatigued and in need of a wheelchair. The condition also causes breathlessness and chest pains, which has affected Aaliyah's mental health.
Aaliyah is supported by charity Cardiomyopathy UK, helping children and young people living with CDM. The charity currently receives a grant of more than £48,000 over three years from BBC Children in Need, which has helped fund the charity to develop a supportive helpline, offer online support via social media, and hold conferences to help children and young people improve their physical and mental wellbeing, and resilience.
With the support of the charity, Aaliyah has joined a Youth Panel where she meets with other young people living with the same condition and is able to talk and raise awareness about how this challenging condition affects her life.
"Learning to manage physical and mental health challenges has been difficult but you shouldn't let it stop you. Dreams don't have expiry dates, trust yourself."
Cara's story
Cara and mum Becky joined Anita Rani and a group of Countryfile viewers on a Ramble around North Cornwall's beautiful heritage coastline and inland routes.
Cara's older sister Elle was born with Cystic Fibrosis, a life-shortening illness which makes it difficult to breathe and process food. Up until the age of 9, Elle was living an enjoyable childhood, but then contracted a severe virus in hospital, resulting in a double lung transplant. The operation went well, but doctors soon discovered that the virus has spread throughout Elle's body. Admitted into intensive care on Christmas Eve, 2017, Elle sadly died ten days later.
After losing her sister and best friend, Cara was introduced to the Donna Louise Trust, a project funded by BBC Children in Need. Since Elle's death, the project has supported Cara throughout the grieving process, providing her with supportive sessions, such as art therapy, to help her deal with her grief.
Speaking of the project, Cara's mum, Becky said: "The project have done such an amazing job in helping Cara through the grieving process; things like coming to our house where it's more comfortable for Cara to talk openly, have been so important.
"Since Elle passed away, Cara has suffered with her mental health, so the therapy has really helped that. Just before Elle got really poorly we used to go for walks as a family three or four times a week, which we found to be really therapeutic; and now, after such a huge loss, we find nature and being outdoors so comforting. Whether it's looking at the trees or listening to the birds, being outdoors and free from our phones, where we can talk, is so calming."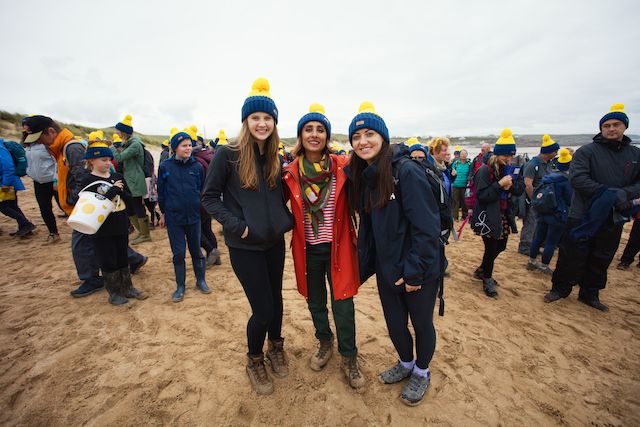 The Donna Louise Trust currently receives a grant of over £100,000 from BBC Children in Need, over three years, to fund the 'Sibling Matters Project', a project providing a range of support and activities for siblings of children with life limiting conditions.
"I'm really looking forward to taking part in the Ramble with my mum and Anita next month. Given that Elle didn't get the chance to have an adult life, I feel all the more inspired to achieve a future for her.
"I know that she'll be with us every step of the way and I feel like I'll be achieving this for the both of us," said Cara, ahead of the Ramble.
---
You can watch the Aaliyah, Cara and others join the Countryfile presenters on The Countryfile Ramble for BBC Children in Need, on BBC One, Sunday 27 October at 5pm.
If you missed out on one of the official Countryfile Rambles, you can join teams of walkers across the UK already hosting rambles near you, or set up your own.
To put on your own ramble, visit the BBC Ramble Hub to get walking and raising money for the charity.
Supporting BBC Children in Need
The charity has been raising money since 1927, when we heard the first ever radio appeal. The first televised appeal came in 1955, yet the BBC Children in Need we recognise wasn't born until 1980. The combination of televised segments and presenters Terry Wogan, Sue Lawley and Esther Rantzen saw a dramatic increase in donations, with £1million raised in the first show.
Since then, the UK has said hello to a number of Pudsey's, said goodbye to our beloved Terry Wogan. Fundraising continues, with new partnerships and programmes every year and in 2018, BBC Children in Need announced that since 1980, the charity has raised a total of £1billion in supporting children and young people across the UK.
There are many ways you can get involved, from donating on the night and purchasing your very own Pudsey merchandise, to hosting your own event at school, work or home. Visit BBC Children in Need for more information and do get involved.
Images courtesy of Jack Jones (BBC)