NEWS
Charity Launches "We Won't Let Cancer Cancel Christmas" Campaign
---
How can you support those with cancer this Christmas? Teenage Cancer Trust launches new fundraising campaign to help support young people over the festive period and beyond
Many of us who celebrate Christmas can easily be swept up in festive excitement, forgetting that actually, there are many people - young and old - who are unable to celebrate. Those with illness in particular, may be too unwell to celebrate. They may be worried about treatment or have to stay in hospital during the typically-jolly season. Not everyone is so lucky to be off work, free to enjoy themselves with friends, family and festive cheer.
The Teenage Cancer Trust (TCT) is the only UK charity dedicated to providing specialist nursing and emotional support for 13 to 24 year-olds with cancer. Their new campaign, 'We Won't Let Cancer Cancel Christmas' calls for donations from the public to support as many young people with cancer as possible, and help them to enjoy the Christmas period and beyond.
"Christmas can be really tough for young people and families facing cancer," says Liz Tait, Director of Fundraising at Teenage Cancer Trust. "At a time of year which is supposed to be about having fun, it can be incredibly challenging for young people to be stuck in hospital, missing out on traditions or worried about their treatment."
A message of hope
Lucy Mason and Alice Turrell have spoken out in support of the campaign, sharing their experiences of cancer over the festive period. Hoping to send a message of hope to others affected by cancer, they emphasise that although treatment during this time of year can be particularly difficult, with the right support, things can and do get better.
Lucy had been receiving treatment for Hodgkin Lymphoma at a TCT unit for six months, at which point she had a scan that revealed activity remained. Lucy was booked in for exploratory surgery two days before Christmas.
Admitted onto a general adult ward for the surgery, the TCT funded staff were able to help Lucy to make her stay more bearable. They were able to provide emotional and practical support, including gifting her a TV card and leaving Christmas presents on her pillow.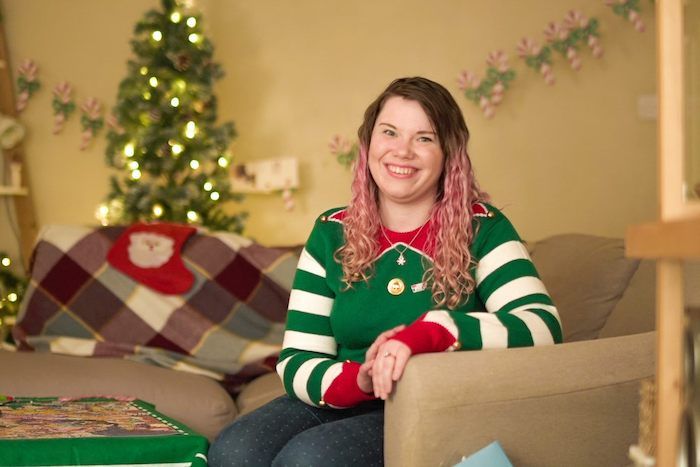 "Christmas is really special to me," says Lucy. "Even though I didn't want to miss it, my mum said it was important that I had the surgery so that we found out if anything was wrong with me.
"My Teenage Cancer Trust Nurse spoke to the adult ward and arranged for me to have the same visiting rights as I had on the TCT ward, which for me was so important. Knowing that my parents could visit me any time of day or night and could stay over with me really helped, especially as they didn't live locally."
Alice was also diagnosed with Hodgkin Lymphoma the day before her graduation last year. Due to the treatment Alice was having, she was neutropenic (she had a low level of neutrophils, a type of white blood cell) and at risk of infection.
Just before Christmas 2018, Alice fell ill and was admitted back onto the TCT unit. Worried she wouldn't make it back home in time for Christmas day, staff on the unit were doing all they could to get her home in time. "The staff worked really hard to get me home for Christmas," says Alice.
"They kept checking if my medication was working, and when something went wrong the day before Christmas Eve, they worked quickly to fix it.
"There was a back-up at the pharmacy, so I was waiting on the medicine I needed to go home. Some staff would have just let it slip, but they were doing everything they could to get me out and they kept chasing the pharmacy for me."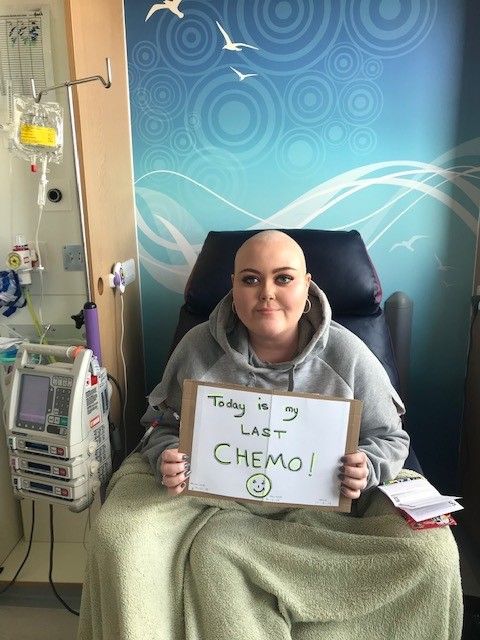 Responding to Lucy and Alice's experiences and messages of hope, Liz Tait said: "Teenage Cancer Trust's team of specialist nurses and Youth Support Coordinators work incredibly hard to keep Christmas special for young people like Lucy and Alice, whether this is by ensuring that those well enough have all the support they need in place to get home for Christmas Day, or by spreading festive cheer for those staying on Teenage Cancer Trust's specialist treatment units."
---
Learn more about the campaign and donate to the Teenage Cancer Trust.
Visit Counselling Directory for information on dealing with a cancer diagnosis, how counselling can help and supporting a loved one going through treatment.
Images courtesy of the Teenage Cancer Trust.