NATURE
Catch the wellbeing benefits of the outdoors with fishing therapy
---
It might not be the first thing that comes to mind when you're reeling off therapeutic activities, but fishing is making a splash in the wellness space. Here, we meet the people and organisations that have discovered something very special lurking just below the waterline
No, this isn't clickbait: fishing really can improve your mental health, according to patients and experts, and last year it was officially employed by Greater Manchester Mental Health NHS Foundation Trust as a way to combat depression and anxiety.
When I first heard about the benefits of fishing to mental health in 2017, I decided to try it for myself. I took my first trip fly fishing just outside Edinburgh on a drizzly November day. I went with community psychiatric nurse Mike Wynne, and his friend and patient, Brian, who had been diagnosed with paranoid schizophrenia – just like me at the time. It was so relaxing being outside, even on a damp November day in Scotland. I became a convert, but no expert angler, and had to eagerly wait for my next invitation to go again.
So, I was exceptionally lucky when a few years later, in 2019, I met Paul, my boyfriend, and he invited me to go carp fishing in Staffordshire, where we both live. This time, we went in the summer, and with the sun shimmering over the misty pool, I had a very pleasant and equally relaxing time. I even caught a carp and some small tench this time. Fishing reminds me of meditation, but more exhilarating – a catch is exciting, and the surroundings of the lake and countryside both idyllic and peaceful.
According to scientist Thomas Warre, in a paper published by Get Hooked On Fishing and supported by the Royal College of Psychiatrists, the benefits of angling can make a unique contribution to a person's wellbeing, involving therapeutic engagement with nature and green-blue spaces, and having a positive effect on a person's subjective happiness, satisfaction, relaxation levels, and overall emotional wellbeing.
One early adopter of fishing as a therapy is Growthpoint Project Coordinator, Geoff Yardley, who was utilising the practise as early as 2014 on the NHS in North Staffordshire. He tells me: "Fishing therapy is great as it takes place in the fresh air, usually in a beautiful, inspiring location. It's super relaxing, and can be both a solitary and a social activity – allowing space to think, and time to socialise. Having a common interest can lead to facinating conversations with fellow fishermen, and raises an interest in patients in nature, and the great outdoors. It's cheap to start up, and inexpensive to attend a pool or the sea, and also provides opportunities to see new places. You could join a club with others who share the same interests. I love it, and so do my patients who come along!"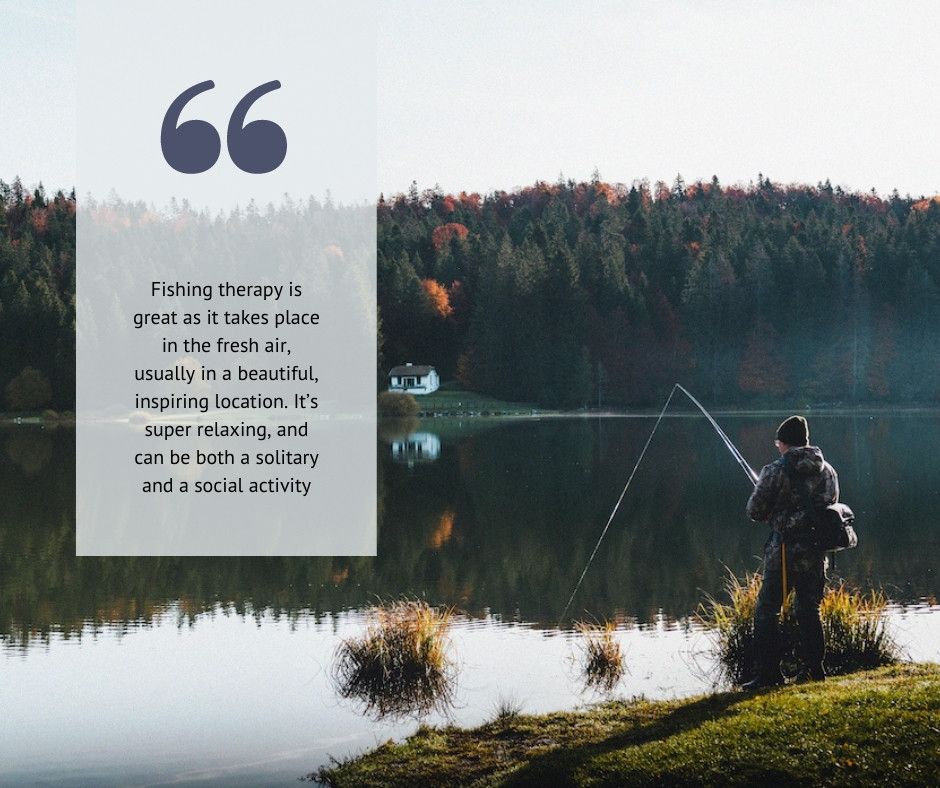 Mike, the community psychiatric nurse from my first trip, agrees: "Having fished since I was around 10 years old, I have always found it to somehow transport me to a tranquil place where my senses are solely focused on the water, whether on a river, reservoir, or at sea. I'm sure it's the attraction and sound of the water, whether trickling, running, or in waves, that puts me in this peaceful and tranquil mindset. In this place, I become solely focused on the water and the end of my fishing line, whether fly fishing, bait fishing, or lure fishing, no matter the location. I always keep hold of my rod with one hand as the fingers of the other hand feel or retrieve the line. So, I guess with my sense of hearing, touch, and sight fully focused, it's then that I drift off into tranquillity.
"I'm sure as a child I had ADHD, as I had high energy levels and a very short span of attention and concentration. While I no longer have the hyperactivity, my poor attention and concentration still surface from time to time, but not when I'm fishing. So out in the fresh air, regardless of the weather (especially up in Scotland!), lovely scenery and the sound of the water, catching a fish it's a bonus – after all, it's rewarding enough to be in a place where nothing other than the end of my fishing line really matters! If fishing can do all this for me, surely it can do it for others even if 'only' as a distraction, or a therapy for mental illness."
Mike says fishing used to take Brian, his friend and patient, back to something he enjoyed and was good at before a mental illness like paranoid schizophrenia. Fishing removed any stigma Brian felt about being different from others, as he was doing something that people without mental illness did. It was the one place he did not feel he had to tell others he had a mental illness, because he didn't stand out. When fishing, particularly fly fishing, anglers are not near one another, so this no doubt reduced his levels of paranoia, and when reaching his own 'peaceful place', the voices usually didn't matter, and often disappeared completely – even if only for a short while.
Brian used to say: "I'm just another angler," when he was fishing, rather than a mental health patient. It was the one place where he felt at peace with the world.
I have to agree with my fellow fishermen Mike, Geoff, and Brian. When I go fishing, I'm an angler and not a mental health patient. Not only is fishing super relaxing, just like a meditation, but I also love being in nature, and it never fails to give me a sense of achievement.
---
If you are struggling with your mental health and would like to explore therapy, visit the Therapy Directory or speak to a qualified therapist.