LIFESTYLE
Carrie Hope Fletcher: Keep calm and Carrie on
---
Actress, blogger and guiding light: Carrie Hope Fletcher on the responsibility of being an influencer, and why restoring her work-life balance has changed everything
"At the warm-up, my voice completely went. I sounded like a drowned donkey, like when a fork gets stuck in a waste disposal. It was awful."
Actress, singer, author and YouTube star Carrie Hope Fletcher, 25, is recalling the moment when, last summer, midway through a touring production of The Addams Family where she played Wednesday Addams, she buckled under the work pressure.
"I'd done 150 consecutive shows, some of which when I wasn't feeling 100%, and in the warm-up my voice completely went. It was my body going: 'You cannot do this today.' I sat in my dressing room and sobbed."
On the surface, with her bubbly, happy-go-lucky personality, Carrie appeared to be handling her hectic tour schedule, but behind the scenes, while juggling a myriad of other work commitments, she was floundering.
"I'm a massive workaholic. I say 'yes' to everything because I'm scared of disappointing people, then I end up with a million things to do and find myself drowning," admits Carrie. "When you're just doing a show that's fine, but when you're [also] maintaining a YouTube channel, writing a book and having meetings about other projects, suddenly you've got no time for you.
I'd wake up, start writing, go to a meeting, record something for the Christmasaurus [her festive stage collaboration with her musician and author brother Tom], go to the show, come back and write some more, go to bed and repeat."
The past year has, says Carrie, been "pivotal" to her mental health. Not only has she implemented steps that have rewarded her with a calmer, more creatively fulfilled and happy life, she has also found love with her Addams Family co-star, actor Oliver Ormson, 28.
The stage has long been Carrie's second home. She signed to an agent when she was three, landed her first West End role in Les Miserables aged seven, playing young Éponine (she later played the older version, the only actress to ever do so) and is now starring in Heathers The Musical.
Acting, though, is just one half of her story. As one of the UK's most famous influencers, Carrie has more than 471,000 Instagram followers and close to 800,000 subscribers to her YouTube channels, including the agony aunt-style ItsWayPastMyBedtime where she tackles topics close to her heart, from bullying to body image. In Carrie's best-selling teen bible All I Know Now: Wonderings and Reflections on Growing Up Gracefully, she put it all down on paper.
As she chats to Happiful from her home in Middlesex, Carrie is reflecting again, discussing anxiety, introversion, body image and why her wealth of life experiences are a lesson to her fans…
Your YouTube channel tackles big issues. Have you always been a deep thinker?
An over-thinker! I've always been very tightly wound, anxious and nervous, and such a worrier. I want to be that people-pleaser, but it means I sacrifice my own mental sanity by worrying about everyone else. But over-thinking every situation has given me a lot of different perspectives on a lot of scenarios!
You're often referred to as a big sister to your fans. Do you feel like a therapist to them?
Yes [but what I say is] not a tutorial about how they should live their life, it's just me talking from experience. When I get the time, I'd like to take a course in counselling, not to become a counsellor but to know that when I am giving advice online it's coming from a professional place.
How do you respond when a fan comes to you with a problem?
When it's online, I send links and phone numbers of people who are qualified and are willing to listen. Face-to-face, I've had young teenagers come up to me and say: 'I'm going to kill myself next week,' or they're in such a dark place they've been self-harming and they'll show me the scars. I've stood and cried with people at the stage door before because I'm so upset that they feel this way.
What do you do in those scenarios?
I have a pep talk ready. I tell them they've survived 100% of their worst days so far, which proves that they are incredibly strong. I say that even though it feels it will never get better, when I was 14 several times I felt that it was the end of the world, but I got through some very dark times and there's no reason why you can't.
What a responsibility…
I feel the pressure of it, but I'm glad that people see me in that way, and feel like they're not entirely alone and that I am there if they need me.
You were bullied as a child. How did it start?
I started high school a month later than everybody else because I was in Bristol performing in Mary Poppins. Everyone knew what I was doing and they'd figured out that my brother was in McFly.
When I arrived at school as a very timid 12-year-old, everyone had already decided who I was – that I had pushy parents or that I thought I was better than everyone else. One girl in particular made life very difficult for me. The bullying was never physical, it was manipulative and emotional. Once, I took myself into the toilet to cry and this girl and her friends climbed on the toilets either side to laugh at me crying. I felt so small, fragile, vulnerable and exposed.
Did you confide in anyone?
My parents were always there to listen, and my school had a counsellor who was amazing. She used to say: 'No problem is ever too small.' I visited Childline a few years ago to see the work that they're doing and they said the same thing – that if something is bothering you, it's worth talking about, no matter how small.
As a society, how can we better support young girls?
We need to enforce kindness. We learn maths, English and science in schools but they never have lessons on compassion, empathy, common courtesy and the value of talking to each other.
What can we do to alleviate the pressure on young women to have a perfect physique?
For those that are comfortable doing it, we should post pictures of ourselves being comfortable with who we are, because that might inspire someone else who isn't. Recently, I posted my dress size, which is a 12 to 14, on Instagram and had so many comments from girls saying 'I had no idea that we were the same size', because the way they look at me compared to the way that they look at themselves is a different story. They said that knowing we were the same size gave them so much more confidence.
What steps are you taking to achieve a healthier work-life balance?
I'm definitely taking steps to fix it, because I will end up dying way before I should if I keep going the way I was. Over the past year I've realised that the world won't end if I give myself 10 minutes to have a cup of tea.
I'll take a day off just for myself, I'll watch The Great British Bake Off, or cook myself dinner instead of nipping to Tesco's to get a ready meal. On a working day, I give myself an hour to wake up, I'll have a cup of coffee, a shower, watch a YouTube video and then I'll start work. Mental health isn't just full-blown depression or bipolar disorder for it to be worth doing anything about. Mental health is how you feel on a day-to-day basis.
Full interview out from Thursday 14th June in the July issue of Happiful Magazine
---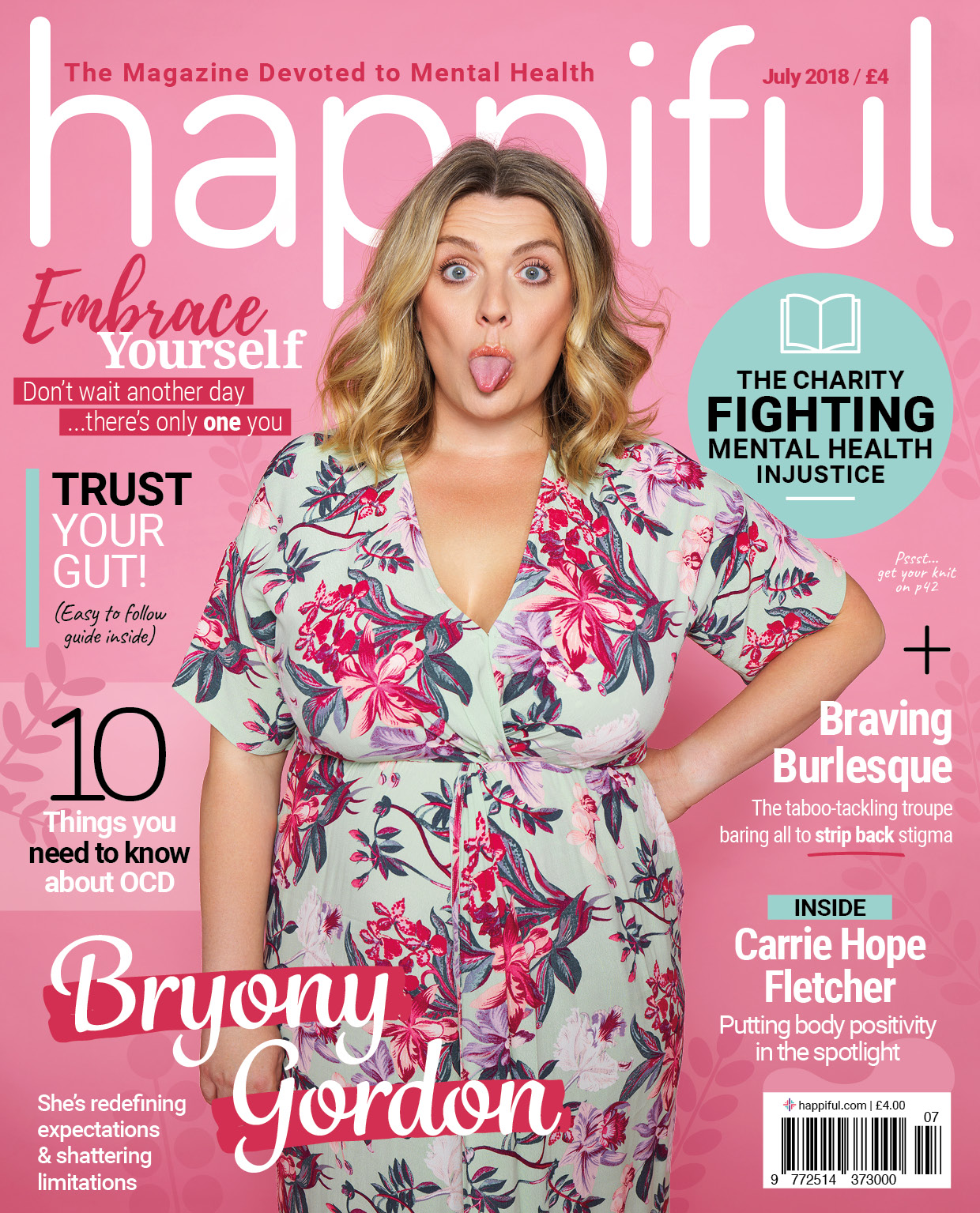 To read more of Carrie's exclusive chat with us, pick up the July issue in all major supermarkets this week.
3 Ways to Get Happiful Magazine
In-store: Pick up your copy in Waitrose, Tesco, Sainsbury's, Morrisons or Asda. Find a store near you.
Online: Happiful is completely free to read digitally. To get July in your inbox this Thursday, subscribe now.
Happiful Shop: Can't see your copy of Happiful in a store near you? Head to our online shop.
'Heathers the Musical' is at The Other Palace, London, until 4 August. Tickets are available from theotherpalace.co.uk Keep up-to-date with all things Carrie by following her on Instagram @carriehopefletcher
Hero photography | Darren Bell