BLOG
Breaking the barriers of 'I can't' to embrace new opportunities
---
Why now is the time to challenge negative core beliefs, and how finding the courage to go your own way could revolutionise your wellbeing
We all have it, that little voice whispering in our ear that we 'can't', we aren't 'enough', that we'll 'flop'.
This might stem from a desire for self-preservation. If we don't try, we can't fail, right? But where does that leave us? What would life be like if we always found ourselves hovering on the edge of possibility, and never taking that first step forward?
When self-doubt weighs on our shoulders, it can hold us back from the life we've always wanted. We might think we have to do what everyone else is doing, we can't rock the boat, or steer off course, or that if we try, it'll be a wreck waiting to happen.
But you know the thing about time? It's fleeting. So you have to ensure you're spending yours in whatever way fulfils you most.
Issue 69 is focused on challenging those core beliefs that you 'can't', to make way for radical new avenues of thinking – and exploring the exciting roads of opportunity they may take you down.
Whether that's working through our 20 life coach-approved questions on p75 to figure out what's most important to you, or finding your personal 'zone of genius' and returning to education, like in the article on p51.
Perhaps it's about finding innovative ways to heal, like through creative pursuits on p29, or coming out at a later age and accepting your authentic self on p65.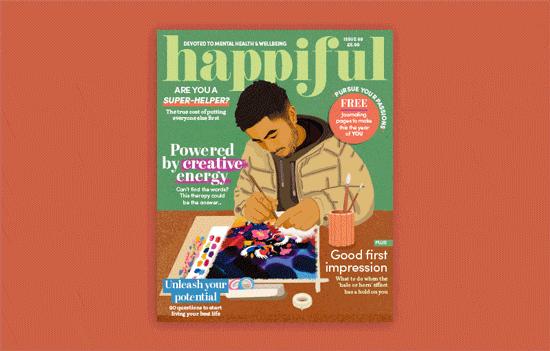 Additionally, in this print edition you'll find:
• Empowering features including how to embrace seasonal living, how adult Lego could form the building bricks for better wellbeing, support for communication delays in kids, and how to handle the halo or horn effect.
• Impactful hacks on creating your own crisis plan, managing menstrual health in the workplace, and signs you're a super-helper (and how it could be harming you) .
• Expert insight on a wide range of areas including supporing someone on their sobriety journey, how to stop self-destructive behaviours, and Marisa Peer on the transformative power of embracing 'you are enough'.
We implore you to open your mind to possibilities, and find comfort in going your own way.
Your path or destination doesn't have to resemble anyone else's – it's yours to explore in your own time. But, we want to put an emphasis on making the most of that time.
As journalist Sydney Harris said: "Regret for the things we did can be tempered by time; it is regret for the things we did not do that is inconsolable."
Let's leave 'if only' in the past.
Rebecca Thair
Editor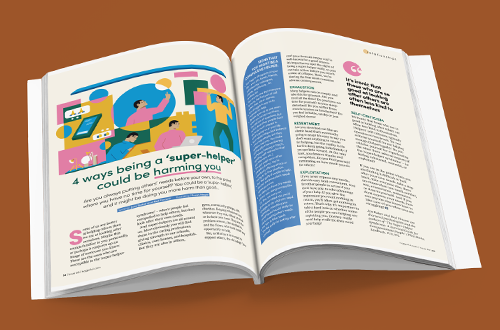 Happiful's mission
Helping to ensure that everyone has access to the help they need – with no financial or geographical barriers – is what we're all about at Happiful. That's why we have a range of ways people can access free mental health and wellbeing content, including our website, app, podcast, and digital magazine.
But, natually, creating this award-winning content takes a lot of time, energy, and effort. And it's thanks to our incredible print subscribers that we're able to fund this – so we want to say a big thank you!
If you'd like to support our work and mission, please head to our online shop to explore our range of subscription offers, which include:
• Happiful delivered straight to your door each month
• Free postage and packaging to the UK and NI
• Exclusive early release for print readers
• Specially crafted guided journaling pages in each print edition
Plus, did you know that the magazine and it's packaging are fully recyclable, and for every tree used to create the mag, we plant two in its place?
Order your copy of Happiful today.