NEWS
'I Hear Voices', Profiling Woman's Journey With Schizophrenia, Shortlisted for Award
---
A podcast series from BBC Radio 1 Newsbeat profiling one woman living with schizophrenia could be set to win an award
I Hear Voices, an 11-part series put together by the radio station, is hosted by Alice, a 27 year old mum who has lived with the condition since she was 15.
Each episode is named after a particular voice she hears, where she goes on to describe their personalities.
The series was released daily in December last year, and was featured in iTunes's top 100 British podcasts.
It has now been nominated for a British Podcast Awards, and tonight will find out if it is successful in the Represent Category.
It faces competition from Carousel Radio, Mostly Lit, Stance Podcast and The Backstory.
Tamsyn Kent, a journalist at the radio station, produced the series and says it was part of Radio 1's wider project for mental health.
She said: "It was part of a wider project that Radio 1 was doing called My Mind and Me, a year-long thing we did.
"The idea was that we produce a documentary, a week of radio documentaries and the podcast, all to follow people with mental health issues throughout the year.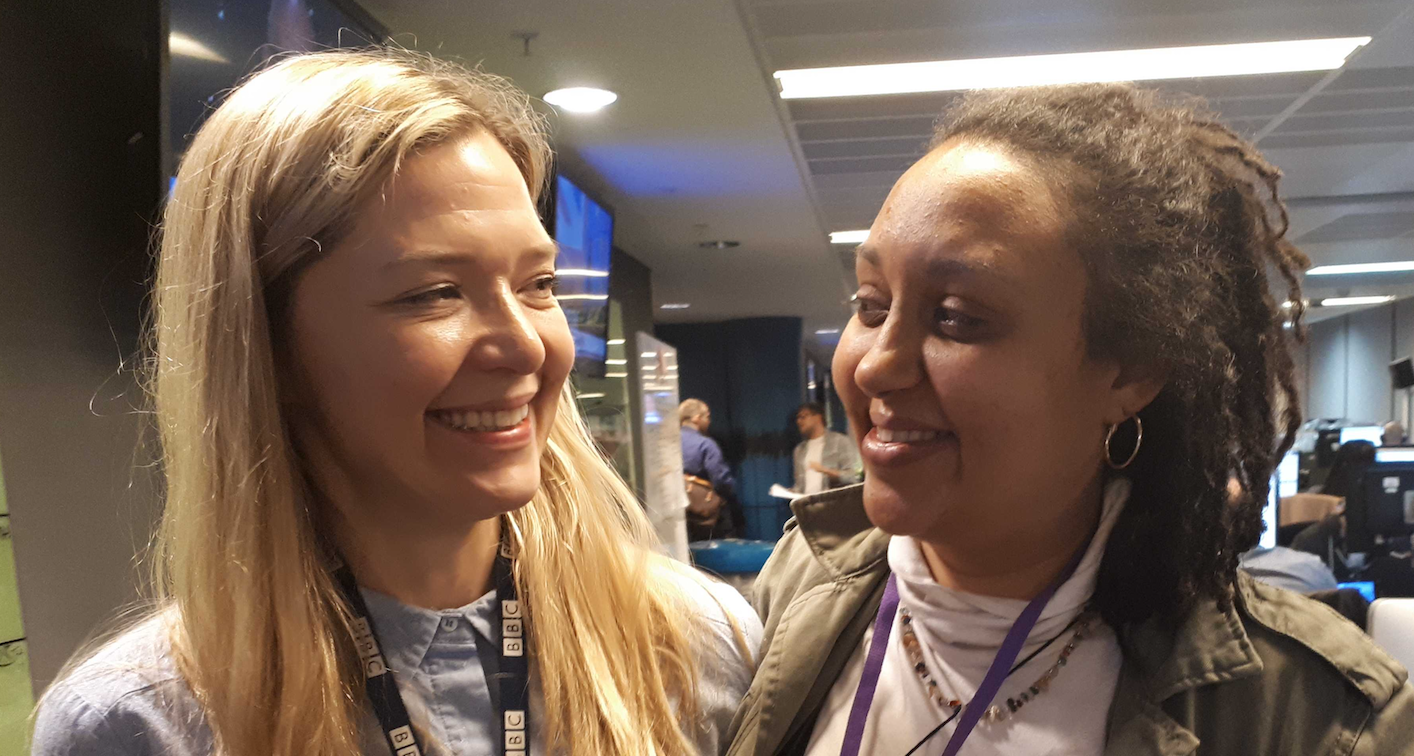 Tamsyn pictured with Alice at Newsbeat
"Alice was one of the people who got in touch with us, because she wanted to share her experiences. She particularly wanted to break the stigma surrounding schizophrenia.
"We have our own stereotypes about what somebody with schizophrenia was going to be like, when I met Alice she was an amazing person who is just like you and me, apart from she hears voices. I just found that really fascinating from the start.
"I thought there was a podcast here."
Tamsyn praised Alice for her 'honest approach' to the podcast and described how debiliating schizophrenia can be.
She said: "As Alice has matured, she has learned how to cope with them, she is such a wonderful person. Talk about overcoming adversity, that doesn't even cover it.
"From the start, I knew she was amazing and had some stories to tell. I am not a psychologist or a doctor, so I can't speak in medical terms, but I think it is debilitating for a lot of people.
"For Alice it was the case to start with at times in her life, even now, it is debilitating. But I think she has learned how to deal with it. She thought people were tricking her.
"In the final episode, she said she wouldn't change everything. It has brought empathy and beauty to her life. She has come to accept the voices, but has control over them."
---
If you would like to find professional support on schizophrenia, visit Counselling Directory for more information.