NEWS
Barbers unite to offer safe space for men to discuss their mental health
---
As men across the UK get ready for their first post-lockdown haircut, barbers are preparing to welcome customers back for more than just a cut, but a candid chat too

A new initiative, #OurDoorIsOpen sees barbers unite in the hopes to inspire men to open up about their mental health in a safe, non-judgmental space.
In a bid to stop men from falling through the gaps of mental health support, #OurDoorIsOpen is creating a nationwide community of barbers who can offer a non-clinical, non-judgmental space for men to talk about their mental health and be signposted to further support. It's calling on barbers across the UK to join the initiative ensuring that those who are struggling with their mental health as a direct result of the pandemic, receive the support they need.
#OurDoorIsOpen is the latest initiative from Tom Chapman, founder of charity The Lions Barber Collective. Tom is asking barbers to take to social media, and share images of themselves outside their shops with the hashtag #OurDoorIsOpen to declare your support for men's mental health.
Tom hopes that this latest campaign will encourage many people to see the true value of getting a haircut. "When they [clients] return to our chairs not only will we make them look fantastic but the relationship intimacy and level of trust will also have a huge impact on their mental wellbeing. We are so much more than just a barber or hairdresser."
Suicide is a harrowing reality for many men in the UK, with it being single biggest cause of death of men under 45 in the UK. Men are also far less likely to reach out for professional support, with just 36% of referrals to psychological therapies being male. These stats are at the heart of what fuels Tom's mission.
After losing a close friend to suicide in 2015, Torquay-based barber Tom founded The Lions Barber Collective, recognising that hair and beauty professionals were often friendly confidants to their clients, fostering unique relationships and, sadly, some barbers are the only human contact a client receives all month.
Working alongside professionals, Tom developed the clinically-backed BarberTalk and Hair&BeautyTalk programmes which trains hair and beauty professionals to recognise signs of poor mental health in their clients, enabling them with the skills to ask direct or difficult questions to facilitate conversation and signpost customers to further support.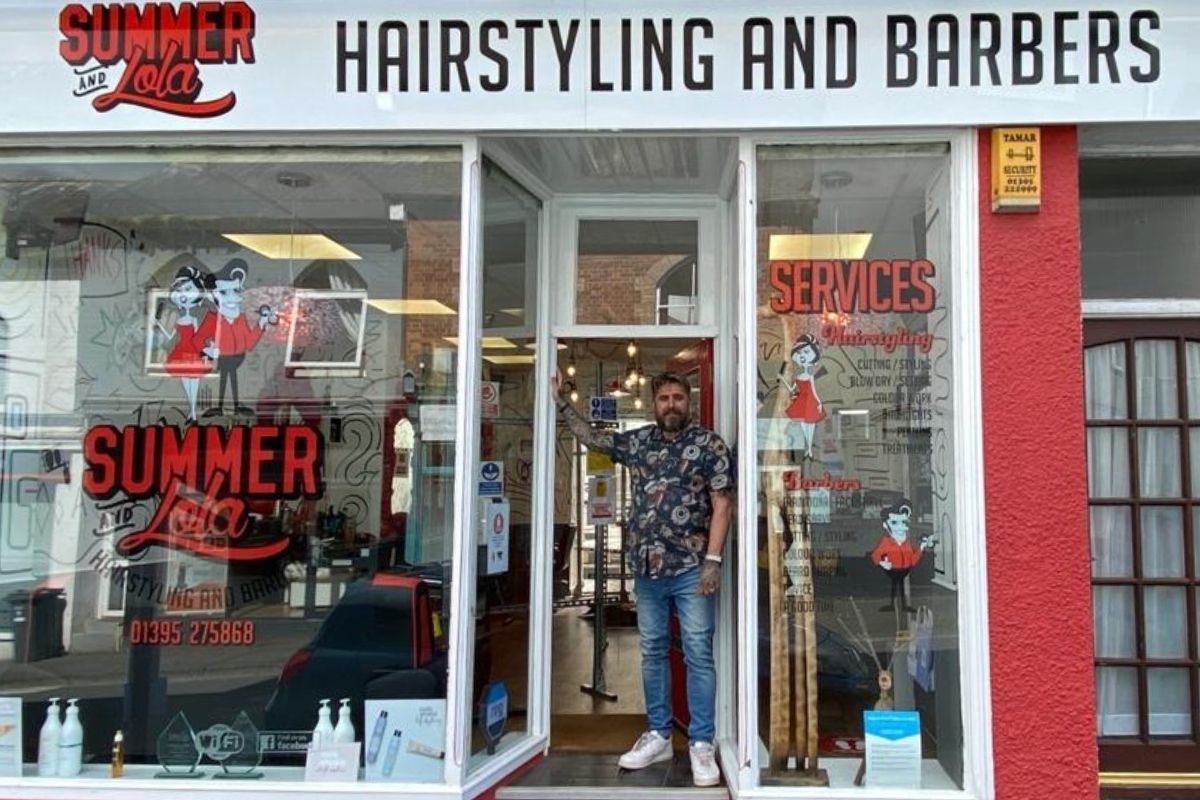 Talking of the latest initiative from the charity, Tom says it was another friend of his that inspired #OurDoorIsOpen. "When we opened up again in July, I cut a friend's hair, he seemed fine when we had the consultation but, once I started cutting his hair, he started to cry. I stopped and asked him if there was something he'd like to speak to me about.
His reply shocked me. He lived alone and this was the first human contact he had had in months.
"This made me determined to ensure that others in his position have someone they can talk to when barbers reopen in April, while also giving barbers themselves access to tips and training they need to be able to listen and support those who are still struggling.
"A barber can see up to 200 people a week! Although, the majority of the industry will see about 12 people a day and, in a post-lockdown world, opening hours will be extended to fit in their desperate clients. The hair and beauty industries reach is just phenomenal with an infrastructure that is accessible to most."
If you'd like to get involved with #OurDoorIsOpen or find out more visit The Lions Barber Collective. If you can, you could donate £5 to help train and support more UK barbers by texting THELIONS to 70970.
---
Connecting you with support
Change starts to happen when we shine a light on our struggle, when we feel safe to share our thoughts and when we know that someone, anyone is listening. If you are struggling with your mental health right now, know that help is out there, and an ear is always listening.
In this article, we share 5 ways to support men's mental health and signpost numerous charities and organisations that are dedicated to men's mental health.
Men2 is a collection of support groups run by men, for men. Offering peer support, encouraging open and honest conversation and providing comfort in shared experiences, the groups are facilitated by qualified therapists.
Andy's Man Club offers nationwide support groups for men both in person and online for those out of the catchment area. After losing his brother-in-law to suicide, Luke Ambler co-founded the charity to give men a dedicated space to tackle their own 'storms'.
If you need to talk right now, Samaritans are available 24/7 and are waiting for your call. Phone 116 123, email

[email protected]

.
If you need a safe, confidential space to work through your challenges, you can find a professional therapist on Counselling Directory.
If you are in crisis and are concerned for your own safety, please call 999, or go to your nearest A&E department.
We must keep talking. It saves lives.