LIFE
Alexandra Burke: On the Record
---
The past 12 months have seen extreme highs and lows for Alexandra Burke – and couldn't have been much more emotionally challenging. Her hugely supportive mother passed away, shortly before Alexandra appeared on Strictly Come Dancing where, despite reaching the final, she received a torrent of abuse in the papers and online. But with a new album on the way, an upcoming stint in the West End, and not to mention her surprise engagement, the singer is on the up again, and it's music to our ears
Alexandra Burke wants me to proofread a passage of words she has written to thank her nearest and dearest for supporting her during the making of her album, The Truth Is. It's six years since the former X Factor winner has released music – performances in stage productions of The Bodyguard and Sister Act, and competing in last year's Strictly Come Dancing contributed to the delay – and, there's no denying it, this moment is big.
Recipients of Alexandra's gratitude include her friends, her management team, her record label Decca, her family and, at the very end, the woman who raised her in Holloway, north London, as a single mother, supported her musical dreams and remains her ultimate career idol – her late mother Melissa Bell, a former singer with 80s band Soul II Soul, to whom the album is dedicated.
The night before we meet at the Happiful photoshoot in central London, Alexandra, 29, showcased a selection of songs from the album in a room packed with journalists, opening with a spine-tingling performance of the title track, which describes with agonising exposure her emotion after Melissa died last August at the age of 53, after a lengthy battle with kidney failure. That very night, delirious with grief, Alexandra walked the red carpet at the Strictly launch after pledging to continue her dance show journey in her mum's honour.
So Alexandra danced. Boy, did she dance. In the arms of her Spanish professional dance partner, Gorka Marquez, 27, she quickly emerged as the series' standout star, regularly topping the leaderboard and swiftly becoming the bookmakers' favourite. But her pure Strictly joy was short-lived. Despite Alexandra's technical brilliance, she twice ended up in the bottom two and found herself on the receiving end of hostile newspaper stories that focused on so-called diva-like behaviour, and social media hounds who criticised her every move.
"If I shed a tear it was: 'Look at her, she's fake,' and even if I went the other way it was: 'She's too much, I can't take her because she's too positive.' I felt like I was so trapped in my own self that I couldn't be myself," says Alexandra, finally reflecting on the troubles. "I felt like I just needed to be quiet, that if I shut up I'd please everyone and it's an absolute shame."
Alexandra, who reached the final and finished alongside former magician's assistant Debbie McGee, 59, behind winner, Holby City star Joe McFadden, 42, admits all the "nonsense" has taken its toll on her self-esteem.
"It's only been in the past 72 hours, after two friends said to me 'You've lost your confidence', that it suddenly hit me and I realised: 'Actually, I think I have'," she says. "I still don't feel my true, happy-go-lucky self, but it's a relief to admit that. Now I don't need to always say 'I'm fine', because sometimes I'm not."
I still don't feel my true, happy-go-lucky self, but it's a relief to admit that. Now I don't need to always say 'I'm fine', because sometimes I'm not
As Alexandra talks, her eyes work like emotional subtitles to her story, expressing sadness, fear and fire. She is highly sentient and emotionally honest – "sometimes too honest" – and speaks up if she feels wronged. What's her opinion, then, of the suggestion from Tobi Oredein, editor of Black Ballad magazine, that the lack of viewer support for Alexandra was rooted in subconscious racial anxieties?
"I don't have an opinion because I don't see colour," she says. "I tell you what hurt me – seeing the headline 'Alexandra Burke is too black to win Strictly, ballroom is a white dance' in the Daily Mail two weeks before the show ended. In this day and age, that shocked me. Why do people see colour when it comes to dance or music? Blood runs through everyone's veins the same way. We're all human."
Alexandra's mature sense of perspective, even during the toughest of times, is impressive and rooted in years of self development, which started at the age of 16 when, locked in an abusive relationship, she turned to Rhonda Byrne's 2006 best-seller The Secret for guidance.
"I left that relationship because of that book. I was like: 'I'm worth so much more than being in an abusive relationship.' That's what changed my life," she says. "Since then I've read The Power Of Now, by Eckhart Tolle, and The Four Agreements, by Don Miguel Ruiz, and I downloaded The Secret Daily Teachings app. I used it every single day on the Strictly tour when, mentally, I was going through a lot. I know that with every negative you can feel down, but you have to find the positive in everything you go through."
Completing a life coaching course in 2014 during an 18-month stint in New York after some career highs (her debut single "Bad Boys" and album Overcome were number ones) and lows (her second album Heartbreak On Hold only reached number 18, and in June 2013 her former record label RCA terminated her contract), armed Alexandra with the tools to flip negativity on its head. It's the "nearest" she has gone to experiencing talking therapy – something she believes she isn't ready to seek so soon after her mum's death.
---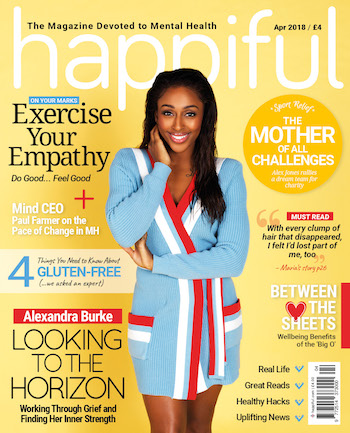 To read more, pick up the April issue of Happiful in your local Waitrose, Tesco, Sainsbury's, Morrisons or Asda store from Thursday 15 March, or subscribe to our free digital magazine to receive it straight to your inbox on Thursday.
Photography | Joseph Sinclair
Make-up | Katrina Appie, using By Terry, Chantecaille, Sunday Riley, and Nars
Hair | Rio Sreedharan, using Ouai hair care
Styling | Nathan Klein