FITNESS
Ageism in the fitness industry and why you're never too old to embrace exercise
---
From pressures to conform to a certain aesthetic, to diet culture and ageism, the fitness space isn't always a welcoming and inclusive one. But, shaking up stereotypes and flying the flag for health and fitness for all ages, Jacqueline Hooton is the inspiring health advocate we all need
"Careful old lady, you'll break a hip dancing." Just one example of the many ageist comments I've received online.
But at 60 years old, I'd hardly describe myself as an 'old lady', and it would take a lot more than a few online comments to stop me from dancing and enjoying myself. I know I am very unlikely to break a hip dancing (or otherwise), because I understand how women can support bone health and avoid fractures during menopause and beyond.
I'm a personal trainer, specialising in helping women in their 50s and 60s get strong, fit, and healthy, avoid physical decline, and enjoy optimal ageing. Like many fitness professionals, I utilise social media to share health and fitness advice, exercises, and workouts. But I didn't fully appreciate how widespread ageism is until one of my Instagram reels went viral, reaching more than 10 million people. Since then, my Instagram reels regularly reach over a million people, and in total, my most popular reels have been seen by more than 50 million people worldwide.
While I have grown a sizable, and mostly appreciative, audience, I attract a fair amount of judgement and negativity as well. I've been told I should dye my grey hair to look younger. I frequently receive comments referring to me as 'granny'. Some have said my children must be embarrassed by my online presence. I've been criticised for wearing shorts, told to 'stop dancing', and I need to 'act my age'.
But I don't let these personal attacks deter me, because I aim to encourage other women to embrace physical activity at any age, and part of this means challenging negative age stereotypes and ageism.
I'm a mum of five grown-up children, and a grandmother. My youngest son is at university, my parents are in their 80s, and I'm a business owner. I'm typical of the women I work with, who are often the filler sandwiched between older but dependent children, and ageing parents or relatives in need of support. They may have demanding careers, businesses, and jobs. Many may be struggling with menopause symptoms, and other health issues. Having time to address their own needs can be challenging.
These practical barriers to exercise are often combined with perceived barriers; some women worry they've left it too late, imagine they need lots of time to exercise, or feel anxious about being judged for their body size or shape. It's no wonder that one in two women in the UK does not exercise, according to a survey by Nuffield Health.
This is a huge inspiration for me, as I aim to make exercise feel accessible and achievable to mid-life women through my online content. At the same time, I think it's important to inform and inspire women to take action. Every morning I walk, run, or cycle on the beach where I live, and I share these updates on my Instagram stories. I want to encourage women to get outside every day, like I do, for their physical and mental health. I frequently receive messages to say they've seen my morning activity update, and it encourages them to go for a walk as well. This is wonderful because a brisk 20-minute walk each day makes a significant contribution to the UK Chief Medical Officers' guidelines, which recommends adults accumulate 150 minutes of moderate physical activity (like walking) a week.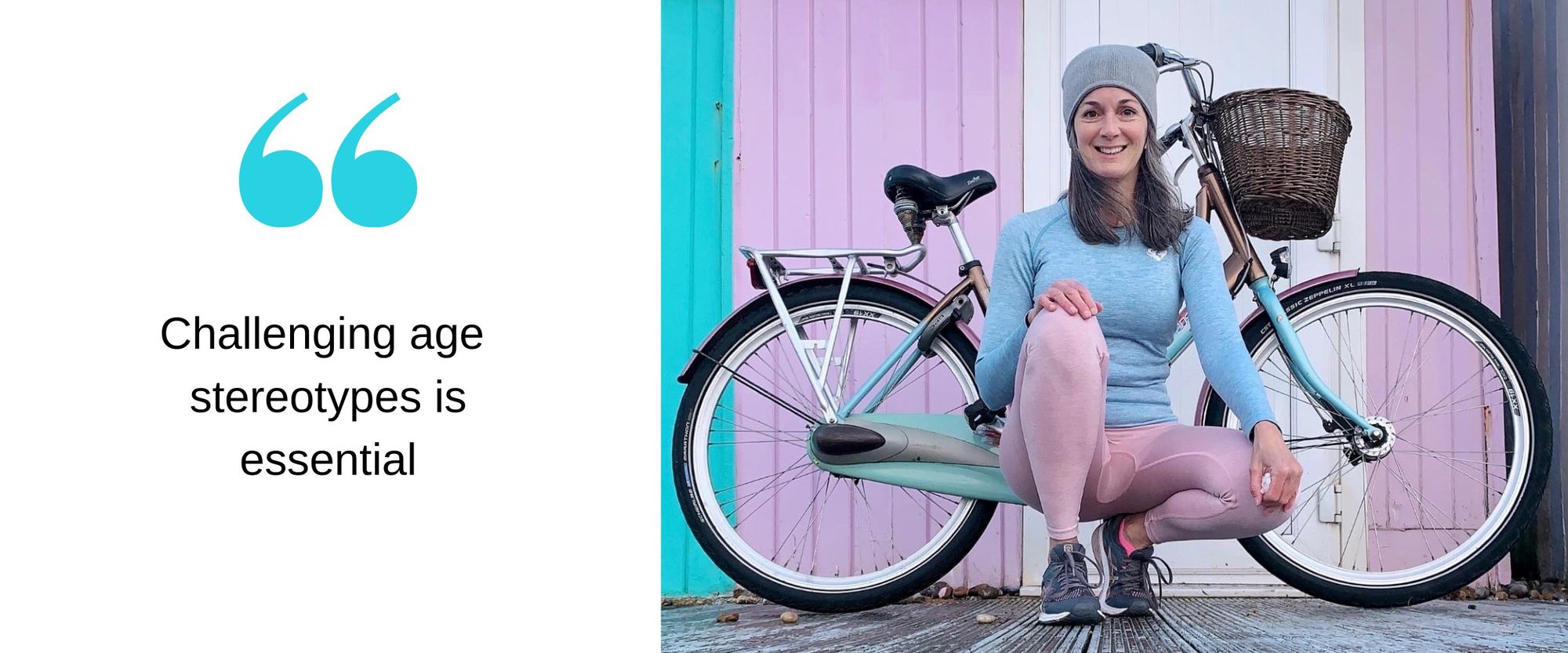 Given that post-menopausal women are at an increased risk of bone fracture, as hormonal changes significantly speed up bone loss, it is also vital for mid-life women to engage in strengthening activities twice a week. Strengthening exercises promote healthier bones, reduce the risk of injury, and help support functional ability for daily activities, and can be achieved with bodyweight exercises, hand-held weights, resistance bands, and gym machines. And I'm also aware that not everyone is comfortable in a gym environment, so, my online workouts focus on showing women how they can still do strengthening activities at home.
But if you're wondering why all of this is so important, take note. In the UK, the ONS has revealed that the average life expectancy for women is 83 years old, but healthy life expectancy is 64 years. This means women spend the last 20 years of their life in poor and deteriorating health. But it is possible to close this gap, and slow down the rate of physical deterioration by engaging in physical activity.
This is why challenging age stereotypes is essential. We are bombarded with negative ideas about growing older, which makes people fearful. Marketing messages focusing on 'anti-ageing' reinforce the idea that age is a bad thing, and encourages women to focus on a youthful appearance. Fitness marketing to younger women is often centred around aesthetics, such as 'drop a dress size' and 'get your body back after pregnancy', and in recent years 'grow your glutes' and 'booty band workouts' have become all the rage. As women enter mid-life, the emphasis on aesthetics continues with exercises to target 'meno belly' and 'bingo wings'. Throughout her lifetime, a woman is constantly subjected to the idea that her body needs fixing, and younger is better than older. As a result, many women have a poor relationship with exercise and food, and feel like they are locked in a battle with their bodies, which simply amplifies with age.
Consequently, I like to shift the focus to health, getting stronger, and exploring all forms of movement. And I find when women prioritise these things, they start to enjoy physical activity and what their body is capable of. I take the view that if we see it, we can be it, so it's essential that women see other mid-life women thriving, with a positive attitude to ageing, and engaging in activities that support health. It's one of the reasons I am very visible and vocal on social media, and tackle ageism.
Women often ask me how to get started in fitness, as it can feel quite overwhelming if you haven't exercised for a while, or are new to it. I like to keep it simple and suggest starting with a daily walk, because this is the most accessible but often underrated form of low intensity cardiovascular exercise. Adding some bodyweight strength exercises will be beneficial as well, like a stand-sit-stand to a chair 10 times in a row. Worktop push-ups, while you're waiting for the kettle to boil, are another way to incorporate some upper body strengthening exercises. Plus, balance can become harder as we get older, so exercises that challenge balance are important too, such as trying to stand on one leg while brushing your teeth.
Women nowadays will live a third of their lives post-menopause. We need to challenge the idea that our best years are behind us, and everything is downhill. We are free to wear whatever we like, can carry on dancing, and should refuse to conform to ageist stereotypes. I want women to know it's never too late, and you're not too old!
---
For more from Jacqueline follow her on Instagram @hergardengym
---