ADHD
Adult ADHD: What comes next after a diagnosis and how can I prepare?
---
Long thought to only occur in children, more and more adults are now realising that their daily mental health issues could also be down to attention deficit hyperactivity disorder
When Kat Brown, a freelance journalist, was diagnosed with attention deficit hyperactivity disorder (ADHD) almost two years ago, at the age of 38, she was finally able to find the right treatment after years of battling depression, anxiety, and insomnia.
Like so many of her generation, she had no information about disorders like ADHD, and had relied on food and alcohol as coping mechanisms for most of her life. "It was interesting looking back and going, 'Oh, well that makes sense,' and matching things up," she says.
For a disorder once thought to only occur in children, data shows that diagnoses of adult ADHD are growing four times faster than among children in the US.
Coming to terms with your diagnosis
With information from experts and personal experiences now readily available, more adults are realising that their daily struggles can be explained by a missed diagnosis of ADHD.
Adults without proper diagnoses are often given non-specific medications and therapies, which have a minimal impact on ADHD symptoms.
In gathering material for this article, a tweet was sent out asking for people who had been diagnosed as adults to talk about their experiences. Within 24 hours, there were more than 200 people ready to tell their stories. A common feeling reported following diagnosis, was relief.
One of these people was John-Michael Aurednik, from West Virginia, who says his diagnosis allowed him to make sense of many things in his life. "Getting diagnosed puts into context every single 'trivial' struggle that this disorder contributes to," he explained.
Understanding your ADHD
Developing an awareness of how your ADHD affects your life is essential in finding the right treatment, and improving your wellbeing.
Stephen V Faraone, professor of neuroscience at the State University of New York Upstate Medical University, explains how studies have shown that adults with ADHD frequently struggle to be insightful about their symptoms. Hearing the perspective of those close to you can be beneficial in understanding your symptoms from an outside perspective.
Kat Brown began "taking charge" of her mental health, and researching how to look after herself after her diagnosis, which allowed her to figure out what her life was going to look like moving forward.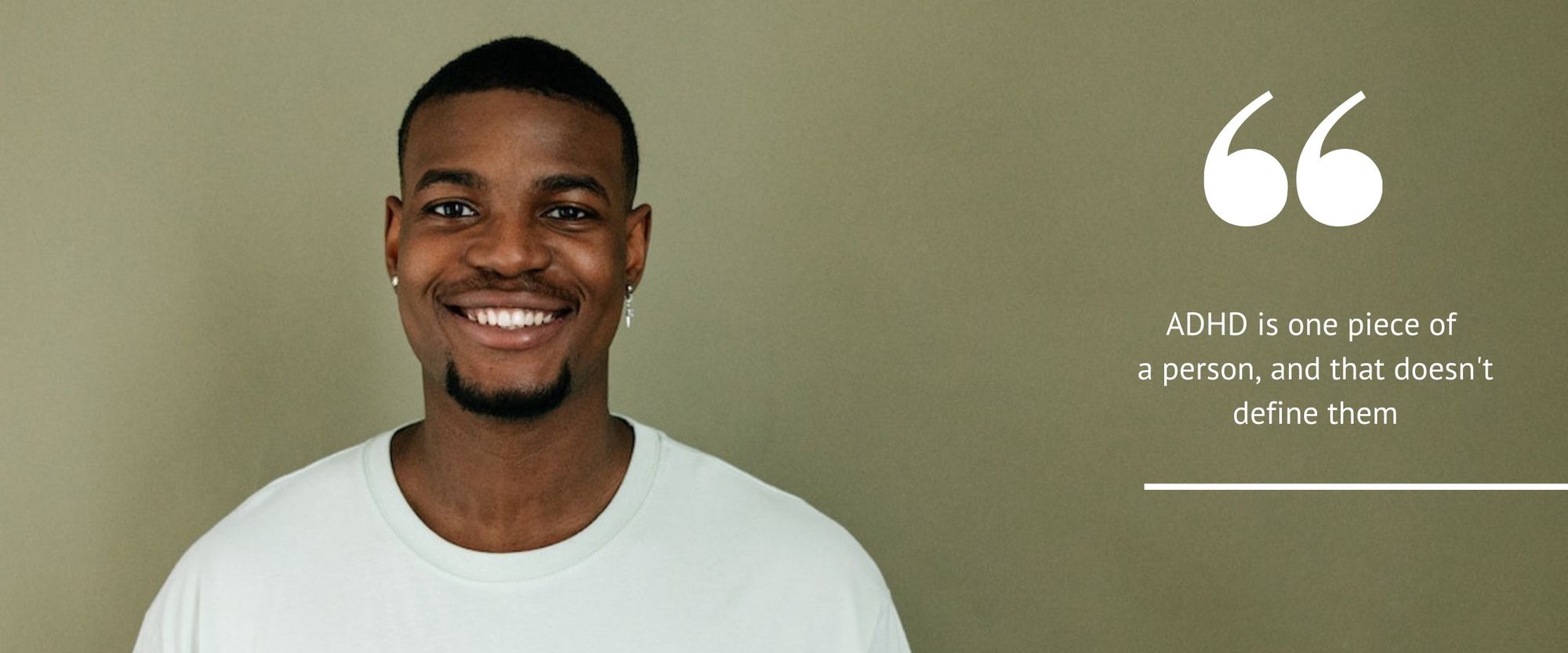 Allow yourself to grieve what could've been
It's no surprise that those who were diagnosed as adults felt that their life would have been different if they had received an earlier diagnosis. Nevertheless, half of the respondents said that their diagnosis allowed them to offload feelings of guilt and shame as they understood how their ADHD had influenced their experiences.
But the truth is that only 120,000 out of the estimated 1.5 million adults in the UK who have ADHD have received a diagnosis still, and it was not officially recognised as an adult condition until 2008. So there is a long way to go.
Developments in the research of ADHD have played a huge role in adult diagnosis, but Professor Faraone also explains how "social, emotional, and intellectual scaffolding" has contributed to late diagnoses.
Resembling the role of temporary structures outside buildings, the scaffolding theory was described by the psychologist Lev Vygotsky as the support we receive from parents and teachers during learning and development.
Increased responsibility in adulthood challenges our emotional and intellectual strengths, and can lead to the exacerbation of ADHD symptoms.
Finding the right treatment
Becoming more aware of your ADHD is the first step after diagnosis, but a care plan will incite change. Professor Faraone says many patients have found medication "essential" in being able to achieve their goals, citing data from The World Federation of ADHD International Consensus Statement.
John-Michael likened his experience with ADHD medication to when "a puzzle piece gets put into place", and said it helped his anxiety.
Several medications have proved to be effective in reducing symptoms of ADHD, and are often used alongside non-medication treatments – including cognitive behavioural therapy (CBT) – which have been shown to be less effective alone, but which appear to help in developing life skills in areas such as self-regulation and planning.
Find other ways to support your ADHD brain
Other practices have been reported to improve the general wellbeing of adults with ADHD. Professor Faraone stresses the importance of not "missing the specific treatments for the disorder", but encourages maintaining a healthy lifestyle because of the all-around benefits.
Pippa Simou, specialist ADHD coach and founder of the ADD-vantage specialist ADHD support service, encourages the women she works with to follow an "ADHD-friendly diet", and to stay hydrated, to improve their symptoms.
She also highlighted the benefits of exercise and nature, which is something other ADHD adults have found valuable. "Being in the natural environment can be soothing and calming," she says.
While research to back-up the anecdotal benefits of diet, exercise, and meditation on ADHD is ongoing, from a wider perspective, all these things are known to support your overall wellbeing.
Time spent in natural surroundings has been linked to an increased ability to focus in adults with ADHD, according to studies carried out at the University of Illinois by Professor Frances Kuo.
Connect with other adults with ADHD
The good news is you can now connect with thousands of ADHD adults in person, and online at the touch of a button. Pippa started the ADD-vantage support service to help women manage their ADHD. She runs a regular support group (or as she likes to say, "chat group"), workshops, and coaching for women with the disorder.
"There is magic right there in their company. You will learn the things that are going to help you be the best version of yourself," she says.
The ADHD Foundation, #ADHDwomen on Instagram, and the Reddit ADHD Group, have provided essential support and information for adults diagnosed with the disorder. Many adults value online communities for helping them understand and accept their diagnosis.
Capitalise on your strengths
Having ADHD has its challenges, but that does not make you any less capable of achieving your goals. Examples in many industries show that the right support and management of symptoms helps adults with ADHD to be successful.
Kat Brown has built a career as a journalist, writing for publications such as The Telegraph. She has used apps like Rainforest to focus on tasks, and the Pomodoro Technique for time management.
Adults with ADHD have been shown to embody many creative skills, which boost their wellbeing. Professor Faraone emphasised that it's important for all people, regardless of having a disorder, to capitalise on their strengths to achieve goals.
"ADHD is only one piece of a person, and that doesn't define them," he says.
There is no 'one trick' to living life to the fullest as an adult with ADHD. But through a combination of treatments, support networks, and knowledge of the disorder, you can start taking control of how you live your life.
---
If you need support coming to terms with your ADHD diagnosis, visit the Counselling Directory or speak to a qualified counsellor.