WELLBEING
8 simple and practical ways to show up and support a new mum
---
While the arrival of a new baby is a time for celebration, it can also be stressful for new mums – whether that's due to running on lack of sleep, difficulties with feeding, or just adjusting to life being responsible for a brand new human. Here we're sharing practical tips you might not have thought of to support a new parent in your life
Navigating life with a new baby can be tricky for many; research has shown that lots of mums don't feel either informed or supported in the postpartum stage of their life, whether that's with mental health support, or even household jobs. Many guests bring lovely gifts to spoil the newborn, but can neglect to consider what parents actually need help with. So, if your friend or family member is soon to be welcoming a child into the world, here are some practical ways you can show them some support.
1. Work with them to find the best time to visit
While there's nothing quite as precious as a cuddle with a newborn, ensure you find a time to visit that works for the parents. Don't try to guess when they'll be up for visitors; some mums might not feel recovered enough to accommodate guests in the early weeks, while others might be keen to have company as soon as they're home from hospital.
Dropping them a message to congratulate them and enquire when they'd be up for a visit is a great idea. And remember, even if you're in the area, don't just pop by unannounced – nobody wants to be responsible for waking a sleeping baby!
2. Offer practical help when you arrive
Some mums might just want a chat over a cuppa, but do offer practical help where you can (and make sure you brew up yourself rather than expecting the new parents to serve it). Try not to create additional work with your visit, and instead provide an extra pair of hands – some mums might be happy to hand over their baby for a cuddle so they can have a hot shower, while others might prefer to stay closer. If that's the case, offer to make them lunch or do the washing up while they're busy feeding. Before you're due to drop by, it can be worth asking if they need anything grabbing from the shops to save them making a trip as well.
These small jobs can make a real difference. "New mums will prioritise the baby's needs over their own, so making sure she is eating and drinking enough is really important," says Natasha Crowe, a psychotherapist who specialises in fertility, motherhood, and perinatal support.
3. Ask about mum
Pregnancy can be such a joyous time for mums-to-be, but the postpartum period that follows can bring new mum's back to earth with a bit of a bump! With so much fussing over baby, mum's needs are often missed – yet the 'baby blues' are very common in the first few weeks, with symptoms including feeling irritable, emotional for no reason, or anxious, so don't forget to offer a listening ear to any new mums.
"Mums can often feel quite isolated, lonely, and disconnected," says Natasha, who is also co-founder of Postnatal Connections, a not-for-profit organisation supporting new mums in Hertfordshire.
Remember, you can talk about other topics, too – some mums can feel that all they do is talk about the baby, so chatting about your favourite show or your latest holiday might be a welcome distraction.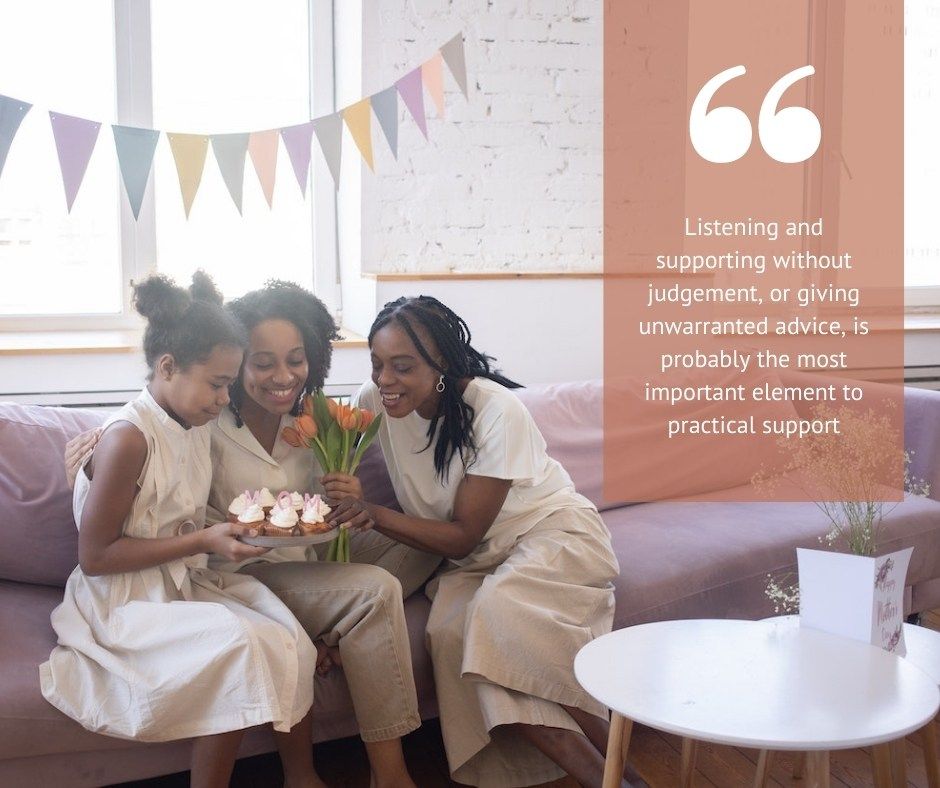 4. Home-cooked meals are always welcome
Don't feel as though you need to spend a fortune on congratulatory gifts – homemade presents are just as valued. One of the best examples is home-cooked grub.
"If you want to offer practical help, then top of the list would be easy-to-cook, nutritious food for the first couple of months. By batch cooking and pre-preparing meals that are really convenient and quick, as neither parent is going to have much time or energy to cook, and it's vital that mum eats well," says Natasha.
5. Don't expect to have constant contact
Those first few months are a big adjustment, so don't fret if your messages go unread or plans change; some days mum and baby might be up for getting out the house, while other days getting out of their PJs is too much of a battle. The key is to be as accommodating as possible.
"Offer help – practical help first – and don't be offended if you don't hear back immediately. The early days and weeks are all about adjusting to a new life with a baby. It comes with so many challenges, both highs and lows," adds Natasha.
6. Don't try to give unsolicited advice
One of the most overwhelming aspects of being a new mum is suddenly having to make all kinds of decisions, from helping your baby sleep to feeding, or even what to dress them in. Much of this is about mums finding their own path that works for them and their baby, but that doesn't always stop others giving advice that's not asked for.
We all parent differently, so it can be tempting if you have children of your own to assume you know best, but be gentle as sometimes motherhood can feel a very judgemental place. Avoid asking questions that might make mums feel they're not doing a good job, such as "Are they not sleeping through yet?"
"Listening and supporting without judgement, or giving unwarranted advice, is probably the most important element to practical support," says Natasha. "Supporting someone with their choices without judgement can really help to build a mum's confidence, and lessen anxiety."
So next time a mum asks you, "Am I doing it right?" give lots of encouragement for her to find her own way, rather than imposing your way of doing things on her.
7. Support other members of the family, too
For family units larger than three, parents often fret about neglecting older children, or even their fluffy companions, when a baby comes along. If mum prefers to stay with the baby, you could offer to help lighten the load with other members of their family – could you take the dog for a walk, or offer to take their older child or children to the park for an hour?
8. Respect any rules
And, finally, remember to respect any rules in place around your visit. This can be as simple as asking if they're comfortable with you holding the baby before doing so, or offering to sanitise your hands before getting up close. Remember that even if it's not the way you would (or do) parent, respecting their wishes is paramount.
We hope these tips have given you some ideas for supporting a new mum in your life. While the transitional period of life with a baby can be hard for any parents, offering plenty of practical support, checking in before you visit, and being mindful of mum – rather than just baby – can go a long way.
---
If you are a new parent and need support, visit Counselling Directory for more information or to speak to a qualified counsellor.