NEWS
8 Black boys pen letters to their older selves sharing future hopes
---
One year on from the horrific death of George Floyd, a series of letters by eight Black boys has been released as part of a project that hopes to better equip schools to tackle racism, and support those affected
The new project entitled The World I Want to See is a collaboration between Mind in Hammersmith, Fulham, Ealing and Hounslow (HEFH), photographer, change architect and activist Cephas Williams and Clear Channel, with the intention of promoting a message of hope in the community.
The World I Want to See features a collection of letters and portraits from eight Black boys from London, born from a workshop facilitated by Cephas and the staff at HEFH Mind.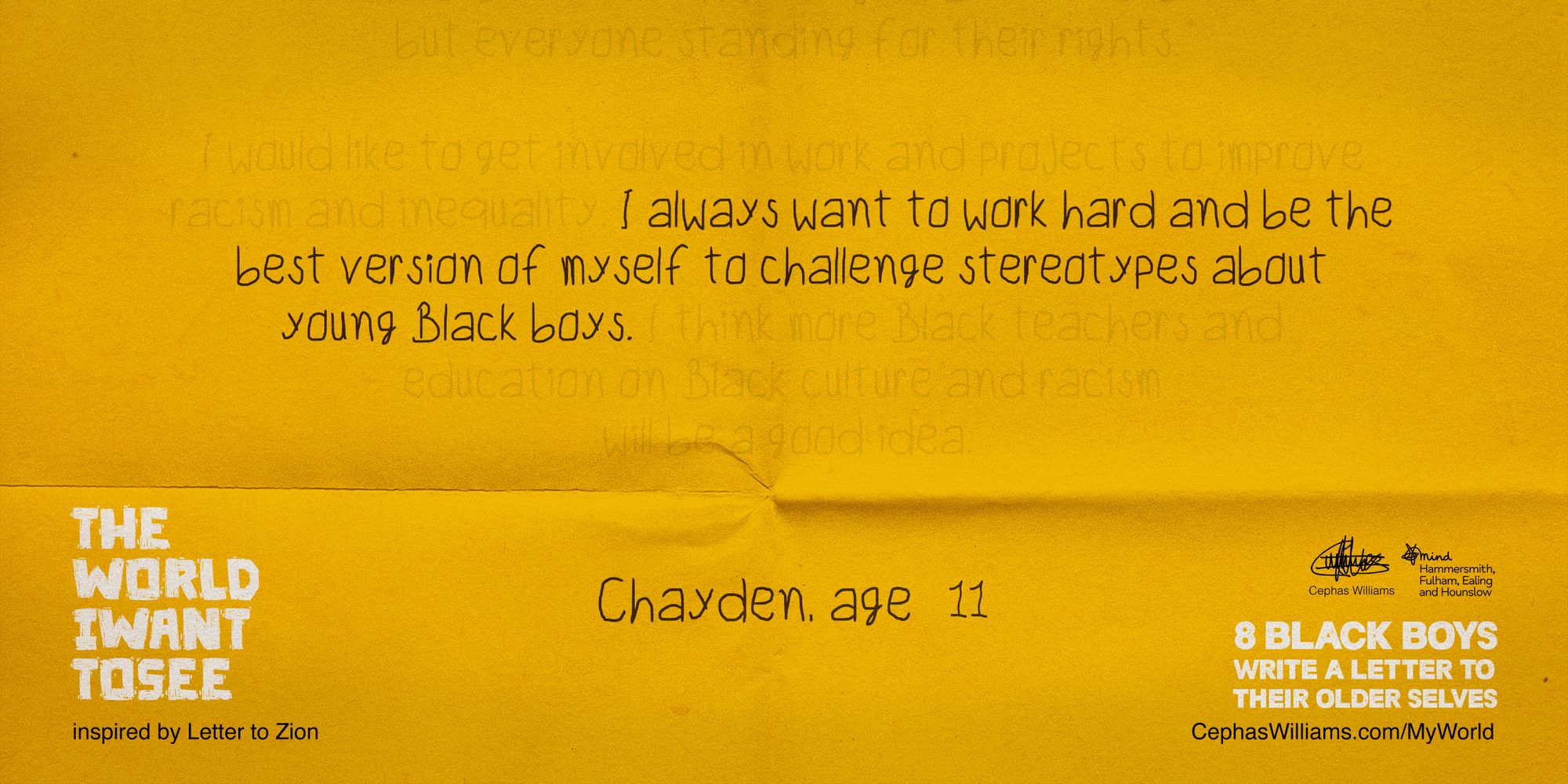 The aim of the workshop was to encourage the boys to process their own thoughts and feelings around the shocking murder of George Floyd and reflect on the pandemic in particular. They were asked to write a letter to their older selves, sharing their visions of the type of world they'd like to see, what needs to change in the world and what they could do to help create it.
"We should be in a space where we all feel safe no matter our race. I have vowed to contribute positively to the world I want to see. So to my future self, if you are reading this I hope I have made you proud," said one of the participants, aged 14.
Within the workshop, Cephas drew on his own experiences, sharing with the young boys his successes and struggles as a young Black man growing up in London.
Cephas also noted that some of the boys shared their experience with systemic racism, and it is his hope that the important conversations that this programme starts, really do go on to change systems and frameworks for the better. That includes anything from schools to pupil referral units and prison systems.
Alongside the collection of letters, Cephas also photographed the boys in his iconic photographic tone of voice. The portraits will now be shared across London through Clear Channel's network of outdoor advertising space.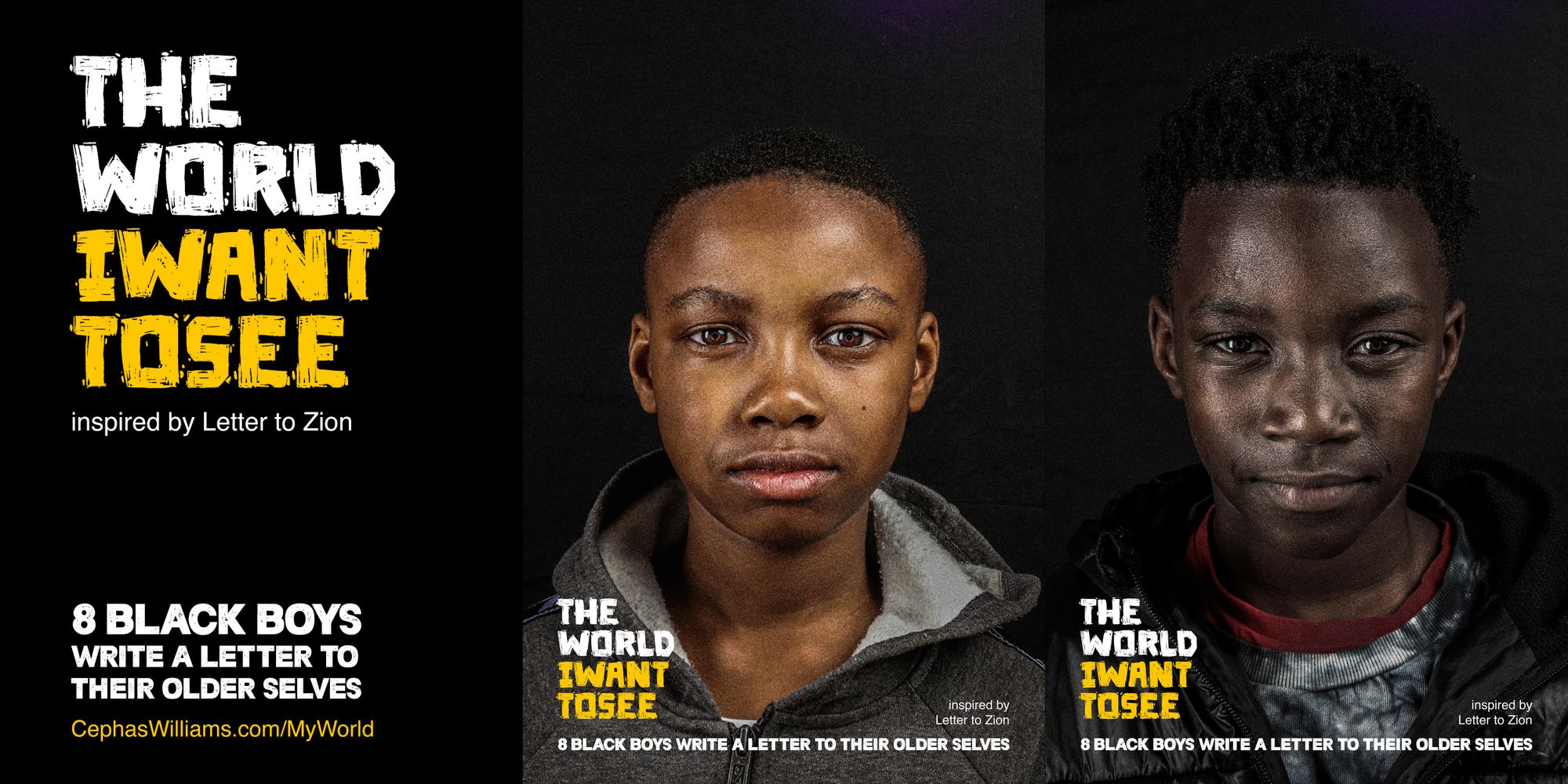 The World I Want to See was inspired by Cephas Williams' 'Letter to Zion', a public letter Cephas wrote to his son sharing his hopes and dreams for his son's future, who was born during the George Floyd protests.
"After all the commitments that companies made last year, and the visibility of the Black community, it is evident that we are a long way from where we need to be, and that we need to focus now more than ever on the emotional wellbeing and mental resilience of people within the Black community and the unresolved trauma many of us have faced for years," Says Cephas.
"It has become even more apparent from this programme that many of the boys who are from Gen Z don't often see that light at the end of the tunnel, and even within their generation they experience or witness discrimination and racism within the educational system and from the wider society.
"It is important this work does not stop here but goes on to make significant change across the educational system supporting the wellbeing of the Black boys affected."
In consultation with the boys who took part in the workshop, HFEH Mind is in the process of creating a tool kit designed to better equip schools to address racism and support those affected.
To find out more, visit HFEH Mind
---
If you have been affected by racism and need support, Black Minds Matter works to tirelessly connect Black individuals and families with free counselling services, with Black therapists to support their mental health.
You can also find private therapists with experience in offering support for racism via Counselling Directory and information on Intercultural therapy.