WELLBEING
6 Apps to Help You Do Something Good
---
Would you like to have a more mindful relationship with your phone? Try the apps that are helping users to make positive change
So many of us use apps in our everyday lives, for anything from shopping and entertainment to travel and productivity. But have you considered using them to help you do something good? Yes, whether you want to donate money to charity, learn a new skill or improve your happiness levels, there are apps out there that can help you to make positive change.
Apps to help maintain mental wellness, in particular, are becoming increasingly popular. There are apps to help you sleep, apps to help you meditate, apps to ease stress, and so many more, all with a focus on maintaining healthy habits to maintain a sense of wellbeing. But, what about when you need a little more support?
Well, now there's something for that, too.
Yes, we're extremely excited to be able to introduce you to our very own Happiful app. With our brand new app you can:

Read the latest issues of Happiful Magazine wherever you go – offering professional perspectives, actionable self-help strategies, inspirational true stories and interviews with high-profile individuals, all with a focus on mental health and wellbeing.
Follow the latest news with daily health and wellbeing articles from our team of writers and contributors.
Connect with professional support from our family of 20,000+ counsellors, therapists and other wellness professionals.
Browse over 200 mental health peer support groups from across the UK to find free local support near you.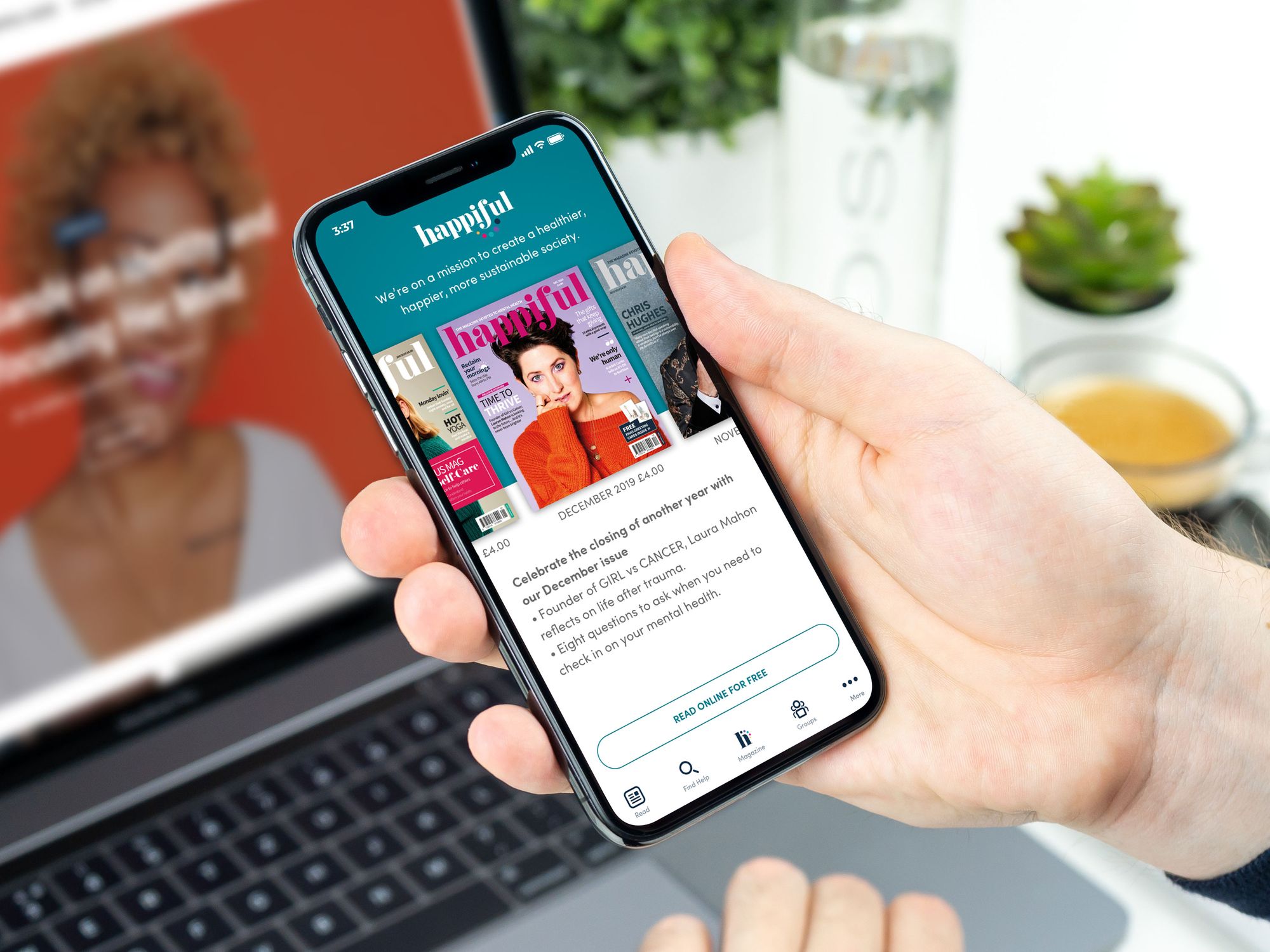 We're passionate that mental health should never be a subject associated with shame or the need for secrecy. We all have mental health and some of us will live with or encounter mental illness during our lifetime.
It's our mission to help our readers to take steps to live happier, healthier and more fulfilled lives, and our app is the next step in fulfilling this mission. It's about sharing access to help, encouraging people to proactively seek support and practise the type of self-care that is right for each individual. It's about developing a caring, collaborative community who support each other while being mindful, and respectful of their individual mental health needs.
The Happiful app is available to download now for your iPhone or Android device.
---
To celebrate the launch of our app, we've compiled a list of six of our favourite apps that you can download right now to change your relationship with your phone and do some good in the world.
Giki is a mobile app on a mission to inspire users to make small, regular changes in their buying habits. Giki's goal is to encourage people to make purchases that are good for them, better for the environment and fairer to others.
So, whether you care about climate change, eating healthily, animal welfare, avoiding toxic chemicals, using less plastic, or all of the above, Giki will enable you to understand the true impact of your products and help you to buy from brands which share your beliefs. It allows you to scan thousands of UK supermarket products to see whether they are sustainable, healthy and fair.
"As the food and drink we consume makes up around a quarter of our total environmental impact, choosing sustainable food is a really good way to reduce our impact," says Jo Hand, co-founder of Giki.
In the latest release of the app, developers have introduced the 'plant based badge', following the growing trend among UK consumers to eat more plants and less meat, fish and animal products. Giki hopes that this new badge increases the options available to its users, helping them to make choices that are better for the environment as well as healthier for them.
The NHS' Give Blood app puts the power to save lives in the palm of your hand. Whether you've donated before or are a first-time blood donor, the app simplifies the process, enabling you to book or change an appointment in seconds. To use the app, all you have to do is register online in order to log in.
Using the app, you can view a timeline of your life-saving donation history, and view the awards you have received on your timeline for saving and improving lives. You will also get an option to receive instant alerts or information updates from the NHS when they need support for your specific blood group.
Would you know how to help someone who was choking? What would you do if you were with someone and they started having a seizure? If you don't know, you're not alone – according to the British Red Cross, there is just a 50/50 chance that someone would be confident enough to help you in a first aid emergency.
To combat this, the British Red Cross has released a free app, featuring simple, easy-to-learn skills for a range of first aid situations, as well as tips on how to prepare for emergencies, from severe winter weather to road traffic accidents. With videos, interactive quizzes and simple, step-by-step guides, it's never been easier to learn first aid. The information you need is all hosted on the app itself, which means no internet connection is needed, making it fast and easy to access.
Get this essential app on your phone now and start learning first aid and testing your knowledge.
I really think everyone should download the British Red Cross First Aid app it's got so much useful information and you never know what situation you'll find yourself in, you could save someone's life
Pls share and download the app pic.twitter.com/NKx1R15CFZ

— Madison (@madisonbystram) May 8, 2019
Search the web, plant a tree – that's Ecosia's philosophy. Perhaps you've heard of Ecosia before – it's a search engine that's been around since 2009, but it's got a lot more heart than your typical search engine. The initiative works by using the money made from searches to fund reforestation programs around the world. But that's not all it does.
Ecosia also empowers its users to do good by helping them to make more sustainable choices in their lives. By placing a green leaf icon alongside selected websites in the search results, Ecosia highlights information that shares its mission. The companies behind these results have demonstrated ecologically-friendly business practices or supply sustainable products or services.
By downloading the app and making Ecosia your default browser, you can join a global community of more than 8 million people reforesting the planet with their searches. It really is that simple. And whether you're using Ecosia on desktop or mobile, you can easily see the impact you're having; the app gives you a counter of how many searches you've performed, so you can estimate how many trees your Internet habits have allowed you to plant.
Since I downloaded the app and switched to Ecosia as my default browser a few months ago, I've already planted over 20 trees. What's not to love?
The benefits of plants on our mental health are well-known but it's very easy to feel disheartened when your new house plant starts to wilt, no matter how much you doted over it. Well, whether you're green-fingered, horticulturally hopeless, or somewhere in between, there are a whole host of apps out there that can help you maintain your own patch of greenery.
Planta is one such app. Offering care reminders, step by step guides and plant recommendations based on your level of skill, Planta is like having your very own Alan Titchmarsh on hand to answer all your plant-based questions.
It can help you discover plants that are best-suited to every corner of your home, so you can not only keep your plants alive but actually watch them thrive.
Planta is currently only available on iOS but Plant Diary is a great alternative for Android devices.
For many people, driving can be a stressful experience. Rush hour traffic, roadworks, diversions – it's a recipe to get your day off to a bad start. But you can change that with GPS-based app Waze, the world's largest community-centric navigation app.
Waze allows users to warn one another about roadside hazards, crashes, traffic jams and other delays and even recommend the cheapest spots to refuel your vehicle. Designed so that motorists can look out for each other's safety, Waze can also help keep drivers' stress levels down.
So, if you want more from your satnav or if you're bored of getting road rage on the daily, give Waze a go.
---
Try taking a break from your usual go-to apps and download a couple of our favourite apps listed here. Not only could it create an opportunity for you to refocus your time and start recognising unhealthy usage patterns and coping mechanisms, but you could make a positive difference to the world around you.
And remember, you can download the Happiful app – the UK's positive mental health app – today. For positive mental health advice at your fingertips, download the app on the App Store or Google Play.