NEWS
57% of British Singletons Turn to Virtual Dating to Ease Loneliness
---
Your love life doesn't have to take a nose dive when you're practising social distancing. As a recent report from eharmony details, over half of single Brits are turning to virtual dating
To ease feelings of loneliness during the current pandemic, video calling potential suitors helps alleviate social isolation challenges. eharmony's latest report stated that over half of daters using video calls considered 'them a good measure of compatibility'.
The ease of video calling allows British people to continue to date without risking contracting coronavirus, which 29% of people agreed was on their mind.
Relationship expert at eharmony, Rachael Lloyd comments, "The current pandemic means we are in unforeseen circumstances with vast societal shifts that could change the way we meet potential partners, along with ways of working and communicating with family and friends, for many years to come.
"We know that during uncertain times people yearn for deeper connections and stability in their lives. Virtual dating means that singles can still build meaningful relationships and get to know each other in a safe space."
Not only does virtual dating allow you to keep on dating, a quarter of singletons said it gave them the opportunity to cut a date short if it wasn't working out, 'without any real life awkwardness'. We may see this trend in virtual dating leading the way for a big shake up  in how we approach dating. As previously calculated by eharmony experts and academics from Imperial College Business School, '2035 is the year where more people are predicted to meet online rather than by other means.' With the current pandemic forcing our hand, could this come sooner?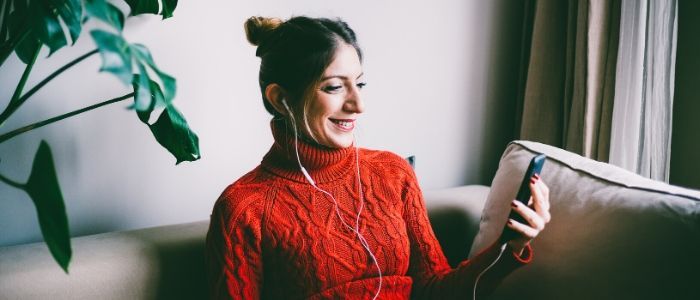 Whilst we work through the current UK lockdown, isolation and feelings of loneliness can be a struggle, as we may all not have a plethora or social contacts to keep in touch with, and single individuals may be at higher risk of feeling isolated, especially if they live alone.
Rachel notes, "Meeting people face to face via video helps to fulfil more of the factors that ease loneliness. This includes people responding to what you're saying with facial reactions and body language, which helps to make communication feel like a two-way street, where you get back positive emotional connections. What's more, if all goes well, you get the satisfaction of knowing that the person on the other end of the video is feeling more connected to the outside world via you as well."
Virtual dating doesn't just apply to singletons, but spans to couples in new relationships. When the Prime Minister announced the UK's immediate lockdown, newly found couples were faced with a decision: move in together quicker than anticipated, or commit to romance virtually for the foreseeable future.
Jack, a homeowner who lives by himself and has recently started a relationship, was faced with just that. Classed as 'vulnerable', his choice was limited to staying put and continuing the relationship online.
"It has been tough because you go from spending so much of your time with someone and sharing everything, to suddenly feeling alone. We make dedicated, weekly time just for each other: whilst FaceTiming, we work out together, watch our favourite TV and cook and eat together. It's a fair substitute for now!"
---
Where to find help for loneliness
Often shrouded in stigma, loneliness used to be associated with the elderly, but this is no longer the case, with the Office for National Statistics reporting that younger people, 16-25 year olds, feel lonely 'more than those in older groups'. But it's nothing to be ashamed of, and loneliness can affect us all, regardless of circumstances.
Marmalade Trust, the charity dedicated to 'recognising loneliness across society and helping people to make new friendships', details some helpful advice on combatting loneliness in the wake of COVID-19 in their article, Coronavirus – Loneliness During Social Distancing.
You can find more support from therapist Sophie Spiegler, who answers questions on loneliness, and we've drawn up a list of ideas on how you can combat loneliness.
If you or someone you care for is struggling with loneliness, there are support services available. Visit Counselling Directory to learn more about loneliness, or find an accredited therapist, if you would like to speak to a professional.
Reading has also been found to significantly reduce feelings of loneliness, so whilst we are all safe at home, why not get back into that hobby that our busy lives no longer allowed for?