Happiful's 5 year report: Reframing mental illness and wellbeing in 2022 and beyond
Reframing mental illness and wellbeing in 2022 and beyond
---
To celebrate five years of Happiful Magazine, the Happiful family commissioned research into the changing landscape of mental health and wellbeing care. Through analysing five years of data across Happiful's family of websites accessed by over 35.3 million users, Happiful looked into how we can make private mental health care and wellbeing support more accessible for everyone. To access the full report, email: [email protected].
---
The demand for mental health support is higher than the current system is able to keep up with. Figures released in August 2021 revealed 1.6 million people in England were on waiting lists for mental health care, while an estimated eight million could not get specialist help as they were not considered 'sick enough' to qualify.
With many worrying that the additional strain placed on the NHS since the start of the pandemic is pushing it towards breaking point (with nine in 10 leaders within the NHS saying that current work pressures and staff shortages are unsustainable in England), two-fifths of patients already waiting for mental health treatment have been forced to resort to emergency or crisis services, according to the Royal College of Psychiatrists.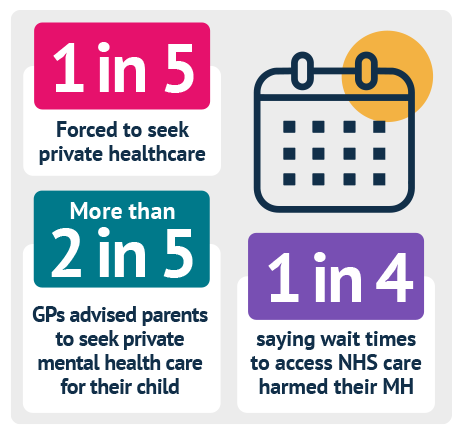 Around one in five Brits have been forced to seek private healthcare, with 25% saying that waiting times to access NHS care had harmed their mental health. An estimated 43% of GPs have gone as far as advising parents of children with mental health problems to pay for private care.
Over the past five years, Counselling Directory alone has seen nearly 21.8 million users accessing their information about mental health and wellbeing. Between 1 January 2017 and 31 December 2021, Happiful's mental health and wellbeing directories have seen a combined 35.3 million users, with more than 5.5 million people reaching out for help and support.
How we access mental health and wellbeing support has and continues to change. Since the start of the pandemic, Counselling Directory alone has grown from having 11,500 counsellors and therapists offering online and telephone support, to more than 17,600 as of February 2022. With changes to online and phone access initially driven by necessity due to the pandemic, many are choosing to remain remote for numerous areas of their lives from work to mental health care.
As our current system struggles to keep up with the needs of the public, it's time we asked: How can we make private mental health and wellbeing support more accessible in 2022 and beyond?
---
Mental health matters: Why are people seeking help?
With a combined 35.3 million users accessing counselling, hypnotherapy, life coaching, holistic therapy, and nutritional support over the past five years, new figures from the Happiful family give a unique insight into how people are accessing private mental health and wellbeing support.
Data shows that key areas of concern include relationships and intimacy (therapists from Counselling Directory saw a 1,061% increase in clients seeking advice on whether their relationship could survive without intimacy), and stress (Life Coach Directory saw a 372% rise in new users accessing content on "Could you be stressed without knowing it?" between 2019–20, and 38% between 2020–21).

Who is looking for support?
Five of Happiful's six platforms have seen an increase in men seeking information and support, including 7% on Counselling Directory. It's worth noting that NHS talking therapy referrals for men currently sit at 36%, while Counselling Directory saw just 34% of traffic between 2017–21 from male visitors. This could suggest an increased need to encourage more men to seek out mental health information and support.
Looking at the most recent figures from Happiful, it would seem that there has been a shift towards more men seeking mental health and wellbeing support. Comparing audience demographics by gender between 2017 and 2021, all six Happiful sites have seen an increase in male users. Most significantly, this includes:
Nutritionist Resource 10%
Counselling Directory 7%
Therapy Directory 6%
Hypnotherapy Directory 5%
How are people accessing support?
The ways in which people are accessing help and support appear to have changed. According to data from Counselling Directory, the number of therapists offering telephone and online support has risen significantly from 11,500 in March 2020, at the onset of the pandemic, to 17,600 as of February 2022. This suggests an ongoing demand for remote mental health support.
Data sourced through Google Search Console suggests that many users searching for support are at a stage where they already feel ready to speak with an expert. Counselling Directory and Nutritionist Resource had the highest numbers of users searching for professional support 'near them', with 44% of the top search queries used to visit Therapy Directory looking for specific alternative or holistic therapies near them, and 32% looking for a counsellor or therapist near them. Nearly a quarter (24%) searched specifically for hypnotherapy, hypnosis, or hypnotherapists, compared to just 8% seeking a coach or 4% a nutritionist near them.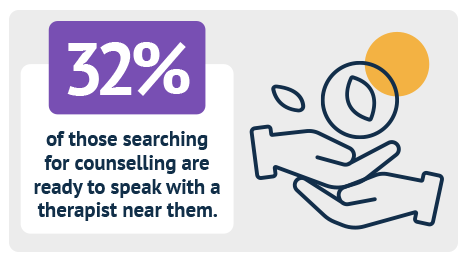 Despite significant rises in the number of professionals offering online support, as well as the number of individuals seeking support online, this would suggest a continuing need for many to access support face-to-face.
---
Tipping point: What prompts people to finally reach out and ask professionals for support?
While it can be tricky to pinpoint the reason why individuals choose to seek professional help, data from Happiful can give us some insight into the areas users are accessing prior to reaching out to mental health or wellbeing professionals.
Counselling Directory member, Shelly Treacher, provided further insight as to why some clients finally reach out for professional help.
"Presenting reasons for coming to therapy may include just wanting to talk, desiring strategies, requiring challenge, wishing for accountability, or some may want to be told what to do. But, many feel they don't know what they need, they just hope that someone can help with the stress of their lives.
"Untold people seek therapy in order to be 'fixed' for being 'faulty'. Feeling bad about themselves is regularly what clients have in common. They end up realising that the thing that needs to change is the prominence of their self-critic.
"Countless people find out that therapy is about finding your own authority, creating boundaries, and understanding yourself. Rarely do people explicitly come for these reasons, but these end up being the greatest reasons to come, above all."
Counselling Directory member, Anthony Purnell, explains more about why so many Brits may be reluctant to reach out.
"In the UK context, we are taught to just get on with things and not make a fuss. In order to live up to this idea people can put off dealing with issues until they reach crisis point; in a sense, the individual is being motivated by sheer desperation. In this time of crisis, counselling could be seen as their only choice, even though, arguably, it should have been the first choice."
---
How can we ensure mental health and wellbeing support is accessible for everyone?
Long wait lists, lack of specialist treatment nearby, a need for support over a longer period of time, or a desire for a choice in the type of treatment or provider are just some of the motivating factors for people seeking private help and support. But what methods can we use to ensure that mental health and wellbeing support is accessible to everyone?
Ensure online and in-person support are both available
While demand for online support has grown, significant numbers are still searching for support near them.
Continue to raise awareness of common mental health issues
Despite 79% of us frequently experiencing work-related stress, Life Coach Directory saw a 372% increase in new users accessing content explaining "Could you be stressed without knowing it?" By helping more people to understand the signs of common mental health concerns, it could help them feel more comfortable seeking support.
Encourage a 'whole person' approach
Through encouraging individuals to improve their health and wellbeing as a whole, it could help to not only focus on surface issues, but underlying negative behaviours, thought patterns, or past experiences that may be holding them back. Placing a more equal emphasis on the different options available (counselling, coaching, hypnotherapy, holistic, nutritional) could help individuals to find and connect with a solution that works best for them.
Affordability
Ensuring prices are clear and easy to understand can help overcome one of the barriers holding people back from seeking support. Highlighting price ranges, concessions that are offered, and package or block session booking could aid with connecting individuals and professionals more quickly. Making sure other options are clearly signposted, such as support groups, helplines, and other free options could help those who are on waiting lists for NHS support, or who cannot afford private treatment.
---
The next steps
For the full report's findings and suggestions on how we can continue to make private mental health and wellbeing support more accessible for everyone, email: [email protected] or for journalist enquiries or requests for interviews based on the report, contact Happiful's PR team at: [email protected].
---
The Happiful family
The Happiful family of sites includes Counselling Directory, Life Coach Directory, Hypnotherapy Directory, Therapy Directory, Nutritionist Resource, Happiful.com and Happiful Magazine. Counselling Directory has been helping connect people with the help they need since 2005. Listing more than 28,000 professionals including counsellors, hypnotherapists, coaches, nutritionists, and holistic practitioners nationwide.
Each directory also provides useful information on different types of help and support available, common mental health concerns, articles from qualified practitioners, as well as public and professional events, to help ensure that everyone has the opportunity to find mental health support.
Happiful Magazine was established in March 2017. It exists to provide a supportive community and continue conversations about mental health and illness – sharing stories from members of the public, people in the public eye, and professionals from therapeutic industries.
About the report and our data
How can we make private mental health and wellbeing support more accessible? Reframing mental illness and wellbeing in 2022 and beyond was conducted by Happiful in January 2022. It was first published in March 2022. It was written and researched by Bonnie Evie Gifford, with expert comments from Happiful professionals, supported by Alice Greedus.
Data sourced using Google Analytics for Counselling Directory, Hypnotherapy Directory, Life Coach Directory, Therapy Directory, Nutritionist Resource and Happiful.com in January 2022, for 1 January 2017 to 31 December 2021. Additional data sourced using Google Search Console in January 2022, for 1 January 2021 to 31 December 2021 across all Happiful family sites.
Happiful and Counselling Directory's sexual intimacy and relationships data sourced in October 2020. More than 2,000 registered therapists responded to a member survey by email, calling for professional views. During the same period, more than 1,000 Happiful readers were also polled about their relationship and intimacy struggles as a result of lockdown and the pandemic.
For further research and press releases from the Happiful family, or to get your free full copy of the Happiful 5 year report, contact: [email protected] or [email protected].