HAPPIFUL HACKS
5 Ways to Support Your Mental Wellbeing While Homeschooling
---
As the UK closes its school gates, the majority of parents will now be working from home and educating their children until further notice. Here, Happiful co-founder Aimi Maunders shares five ways that she has been taking care of her mental wellbeing while homeschooling
1. Set boundaries to create your own space
Being at home with my children 24/7 can feel overwhelming, so setting boundaries from the beginning has helped to create space for myself. In the first few days, it was all a bit of a muddle. But once I had worked out when I needed some alone-time, I quickly established firm boundaries and explained why they were in place. My partner and I have made an agreement on the hours that I will be primary carer and hours that he will be, so we can both still work from home and catch up on studies.
We have decided to follow a similar school schedule, so we start our activities about 9:30am and finish at 3pm. I have asked that at morning break and lunchtime they play outside if the weather is nice or play a game together – explaining that Mummy is having a lunch break too. After school finishes, they go on their iPads or watch TV until we have dinner – my kids love screen time, so we don't hear a peep from them during this time!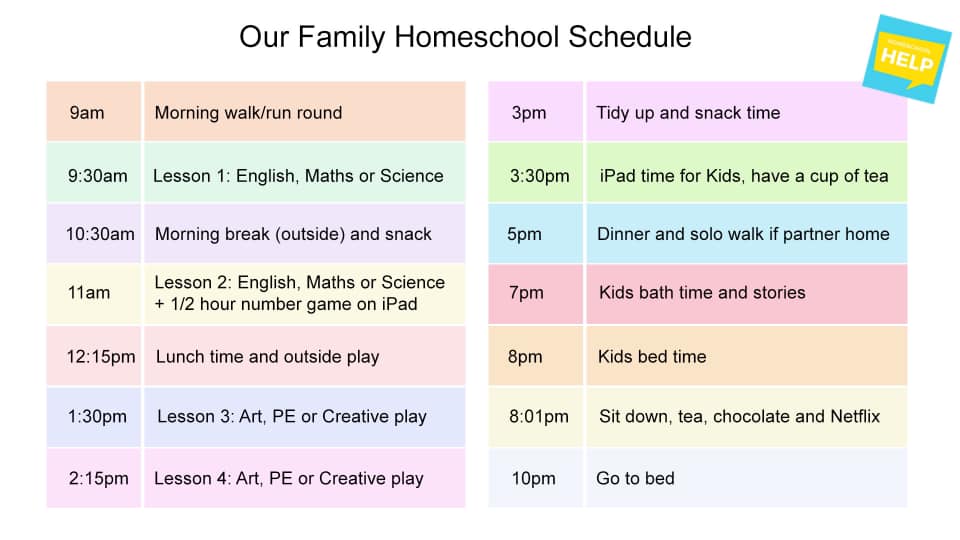 2. Enjoy some fresh air outside
I have been going for a one hour walk on my own every day, and it's something I really look forward to. I feel so refreshed afterwards, and it feels like a little slice of normality. It's so strange, because I used to be able to walk whenever I wanted but never made time to. Now I'm desperate to get out for that walk!
We are fortunate to have a garden, and the few days of sun we had this week have been heavenly. Just sitting in the garden feels amazing, especially after the long dark winter we have just had. I find it so peaceful sitting with a cup of tea and listening to the birds. This is usually when the children are watching TV, so it is quiet enough for me to hear the birds!
3. Be realistic about your expectations
This is such a new situation, and we can only do what we can. So drop any expectations of what you should be doing and do what you want to do. Above all, be kind to yourself. If the kids end up on the iPad all day so you can get your work done or keep the peace, then maybe that needs to happen for a while.
We have decided as much as possible to keep it simple. The activities we do are short with a lot of chatting and fun. I realised quickly that with one-to-one help, they need a lot less time to get things done. So we have a lot less sitting down at the table time than at school.
One wonderful thing I have discovered is that I can significantly lower my expectations of how I look! I get dressed for the day, but that is about it. One of my best friends joked she wasn't bothering with bras anymore, and forget about the ironing!
4. Keep calm and take yourself away
I have a seven-year-old and five-year-old – they fight a lot, and sometimes my head feels like it's going to split open with the noise they create. As much as possible, I try to stay calm and leave the room before I explode. This is not always possible, and again lowering expectations comes into play here. During the past week, it has felt more intense because we are together nearly all the time. It is a great exercise in self-awareness, and I'm trying to leave the room before I pop.
5. Write a journal
Being isolated at home with the children has already brought up a lot of feelings that need some attention. I have been writing in a journal for years and predict that I may be using it daily over the next few months. I don't tend to write about what we have been doing, more how I am feeling and what those feelings might be linked to. This enables me to develop more self-awareness of my thoughts and feelings and understand why I feel the way I do. There are many self-awareness journals on Amazon: if you would like some guidance on what to write.
If you feel you need some support at this time, counselling-directory.org.uk has over 10,000 online counsellors.