The Happiful App - for positive mental health
Find out more about the Happiful App, including what it's for, how it's helped our readers, and more about positive mental health
We are on a mission to help people who are looking for support with their health and wellbeing. It's been our goal since we started back in 2005.
We hope to make finding help and guidance easier, which is why we created our app – to give people access to wellness support, at their fingertips.
Download our app today and join the Happiful community!


---
What's in the Happiful App?
Connect with over 20,000 wellbeing professionals
If you're looking for professional support online or in your local area, you will find experts including counsellors, hypnotherapists, coaches, nutritionists, and holistic therapists listed in the Happiful App.
Read Happiful Magazine
That's right, as well as access to our wellbeing network, you will also find every copy of Happiful Magazine available to read - including the latest issue! The app is also packed with articles from our network of professionals and contributors in the Read section.
Your everyday wellbeing tool
As well as articles for daily inspiration, you will find an extensive list of free to attend support groups and events.
Find out more about Happiful and our journey to creating the Happiful App.
---
What are people saying about Happiful?
I feel happier and more enthusiastic about life after I read this magazine
The must-have mental health and wellbeing staple
Happiful is a magazine to lose yourself in and discover that you aren't the only one feeling like you are. Ideas are realistic and don't push you in line with a marketing ploy. A very useful resource for good mental health
Happiful is for those who want to see the good in themselves and the world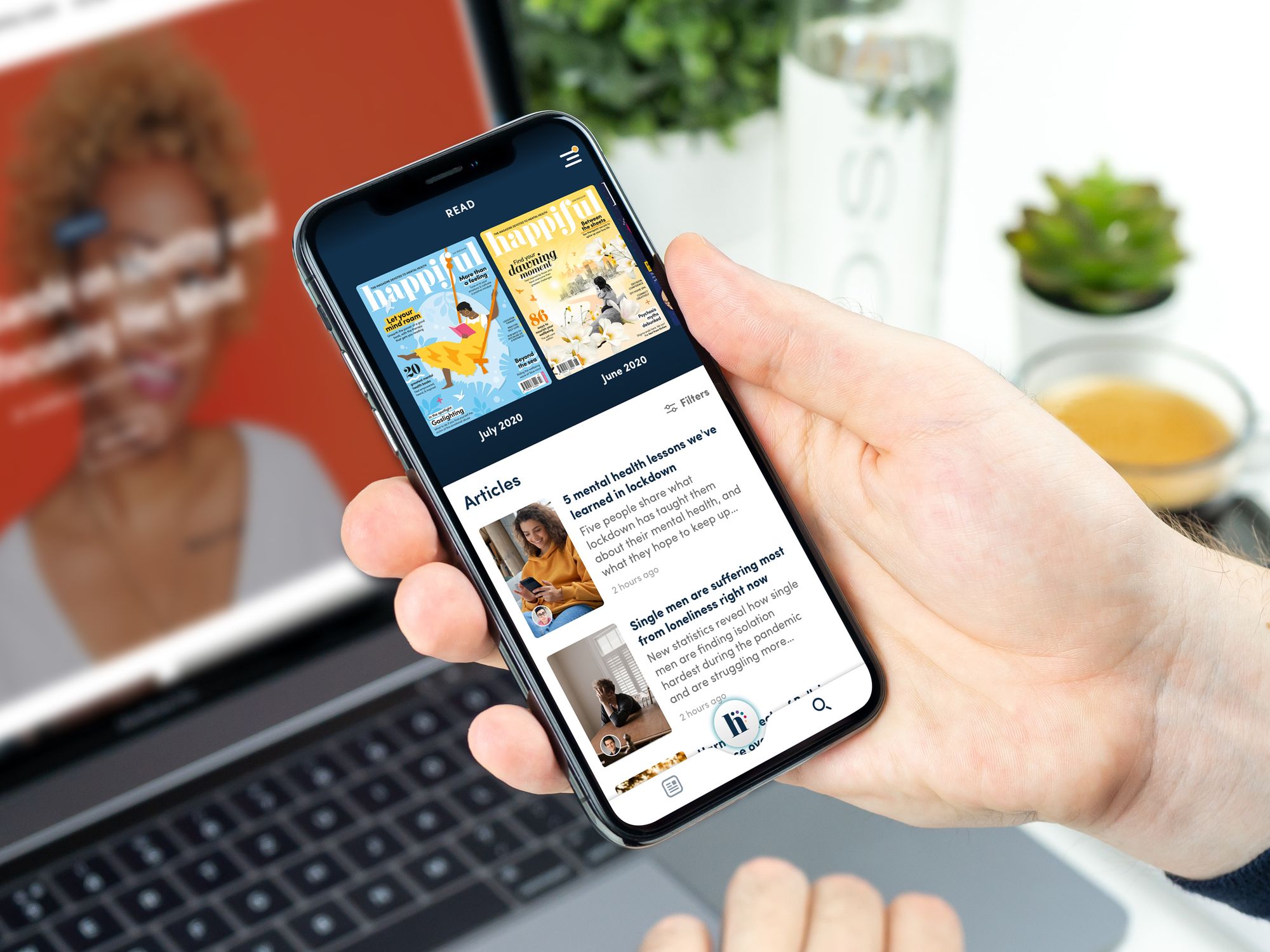 ---
Frequently asked questions
Can I read Happiful Magazine available in the app?
Yes, each issue of Happiful is available in the app completely free. There are no additional charges to read it.
Is the app free?
Yes. Happiful App is completely free to download in Google Play and App Store. There are no hidden costs or in-app purchases.
How do I book professional support in the app?
Happiful lists a number of professionals available for bookings. Once you have found a professional, you can send them a message to let them know you're interesting in sessions with them. Your chosen professional will reply to your message via email, and privately arrange your sessions and payment. Happiful does not take commission on fees and payments for professional services.
What can we expect in the future for the Happiful App?
Next on our roadmap is a new journey flow and interface for users. We'd like to better showcase all the amazing things you do in Happiful, and we think our next release will do just that. Soon after that, we'll be looking at extra resources for users with a particular spotlight on self-care and personal development.
What is positive mental health?
Positive mental health is the acknowledgement that we all have mental health - and some of us will live with or encounter mental illness - but that mental health should never be a subject associated with shame or the need for secrecy.

Positive mental health is about sharing access to help, proactively seeking support, and practising the type of self-care that is right for you. It's about developing a caring, collaborative community that support each other while being mindful and respectful of their individual mental health needs.

Happiful is on a mission to de-stigmatise any idea that taking care of your mental health, mental illness and wellbeing is something to be ashamed of, so that every one of our readers can take steps to live a happier, healthier, and ultimately more fulfilling life.
Contacting Happiful
Email
Phone
You can call us on +44(0)3333 252 506.
Post
Our office address is: Happiful, Building 3, Riverside Way, Camberley, Surrey, GU15 3YL.
Social media
Download the Happiful app today on your preferred app store.